Almost every industry has been transformed by artificial intelligence, including the telecom sector. The technology is helping businesses from handling databases to automating customer services.
If you have a lot of data and you want to create value from that data, one of the things you might consider is building up an AI team. –

Andrew Ng
In this post we will be talking about:
Challenges in the Telecom Industry
Artificial Intelligence – The driving force in the Telecom Industry
How AI is Contributing to Telcos?
AI Trends that Rule the Telecom Industry
Future of AI in Telecom
Let's discuss these points in detail;
→ Challenges in the Telecom Industry
Most businesses had a difficult year in 2020. The telecom industry faced unprecedented challenges during a pandemic.
Figure 1: Telcos created less value for shareholders during the pandemic than nearly every other sector.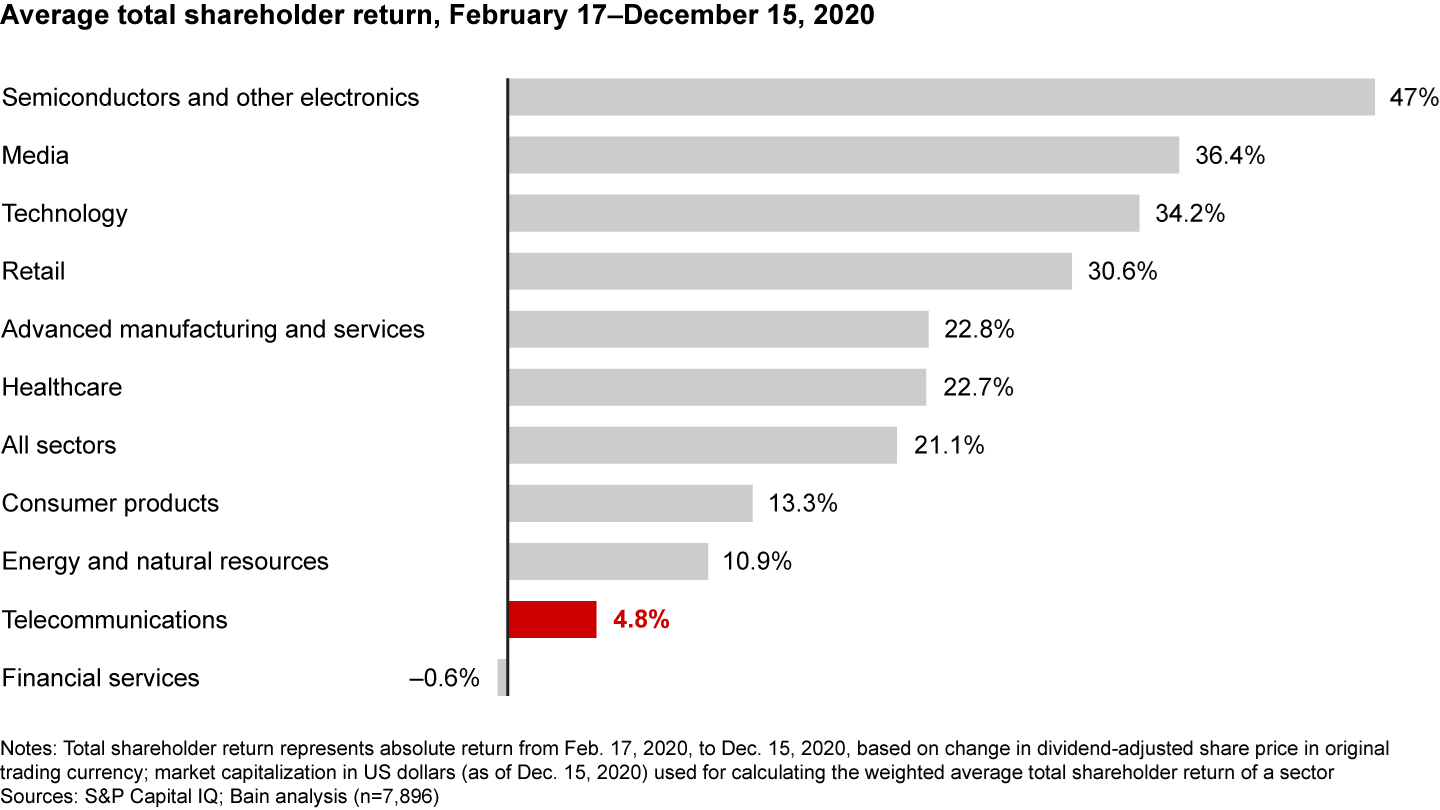 The occurrence of Covid-19 and remote working resulted in an increase in the need for new technologies and solutions.
Josiah Salser "The Pandemic thus far has been a tumultuous year or so marked by unexpected challenges, accelerated digital transformation, and a sudden demand for adopting new ways of working. These issues have affected the growth of the telecom sector by increasing voice traffic, pushing the demand for video web meetings, and placing more pressure on the bandwidth demands of our customers." He further added that these challenges have forced the telecom industry to evolve at an incredible pace with the introduction of things like RPA, IoT, VR, AR, micro-services, and more."

"In this transformational phase of development, it has become important for the telecom companies to monitor calls and communication quality. Along with this protecting customers' data from online thefts should be the main concern. Telecom firms need to make sure that their customers' data is protected and secure." says Rusty Bridges.
For the telecom industry, the main concern is – How will Communication Service Providers Develop?
"Against the backdrop of the ever-present goal of increasing revenues and market share, many CSPs have recognized that it's time to become a true "real-time company."
Digital commerce and time to market are two of the critical success factors here; while eroding customer contact and digital disruptors are among the greatest challenges.
One thing quickly becomes clear: In the first step, telecommunications companies need a future-oriented technological foundation to use their data profitably, increase earnings, and be able to generate added value." says Steven Bailey, CSO at AOE.
A Shift Towards New Trends
The ongoing demand for digitalization is opening new doors for the telecommunication market.
The telecommunication industry has evolved from providing basic calling and internet access, to being the epicenter of growth. The companies are no longer willing to rely on traditional communication channels and are switching to VoIP solutions.
Global VoIP Market to hit $55bn by 2025.
A modern business requires technology that can help it evolve and deliver the best customer experience.
Along with cloud-based solutions, AI-embedded technologies are also creating new opportunities for telecom companies.
Telecom industries are implementing AI technology to improve operational efficiency. This technology facilitates the business model by automating and managing the processes.
→ Artificial Intelligence – The Driving Force in the Telecom Industry
Suzette Bailey, CEO and CO-Founder SimpleMarketing.AI says, "Just a few years ago, Artificial Intelligence (AI) still took enormous time and cost to train to identify patterns and accelerate finding solutions for very specific problems. This meant their use was largely confined to governments and corporations.
Yet today AI has become far cheaper and faster to train for a much broader range of capabilities. As a commoditized service AI has become far more accessible and useful for amplifying human capacity across a broader range of business functions. As a result smaller and smaller businesses are implementing dozens of AIs as services to streamline and automate back-end and front-end activities."

→ Here's How AI is Contributing to Telcos:
1. Chatbots for Customer Support:
Telecom companies use artificial intelligence and machine learning to improve customer service through chatbots and virtual assistants.
Chatbots assist in analyzing requests, routing, and escalating customer inquiries. Moreover, they are used to increase sales and handle lengthy processes without the need for human interaction.
2. Fraud Detection:
Machine learning algorithms are often used to detect errors and any fraud activities like fake profiles, theft, and unauthorized access.
Though these algorithms know how things look normal, they can instantly spot any enormous data activity faster than humans. Also, they provide real-time responses to suspicious activity.
According to this report,

Telecom Frauds cost the world around US$32.7 Billion per year.
3. Predictive Analysis:
According to Nathan Weatherford, VP, Vocalpoint Consulting, "When it comes to VoIP for business, AI has the ability to significantly improve the customer service experience while simultaneously enhancing productivity.
AI can assess calls in progress to detect voice patterns that may indicate the mood of the caller. Then, the system can route calls to employees who are best-equipped to handle that customer in their current state, including bypassing Tier 1 agents and going straight to a supervisor in cases where a caller is deemed potentially hostile."
4. Network Optimization
Network optimization helps CSPs to provide enhanced customer experience by reducing network congestion which in turn improves data flow.
Advanced algorithms are used in AI applications to identify and fix problems by creating a self-optimizing network.

"Artificial intelligence applications are among the latest trends in the telecom industry, increasingly helping CSPs manage, optimize and maintain not only their infrastructure but their customer support operations as well. Network optimization, predictive maintenance, virtual assistants, and RPA are examples of use cases where AI has impacted the industry, delivering an enhanced CX and added value for the enterprise overall. says Liad Churchill.
"Technology is already a big part of the telecommunications industry, and as Big Data tools and applications become more available and sophisticated, AI can be expected to continue to grow in this space into 2021 and beyond."
→ AI Trends that Rules the TeleCom Industry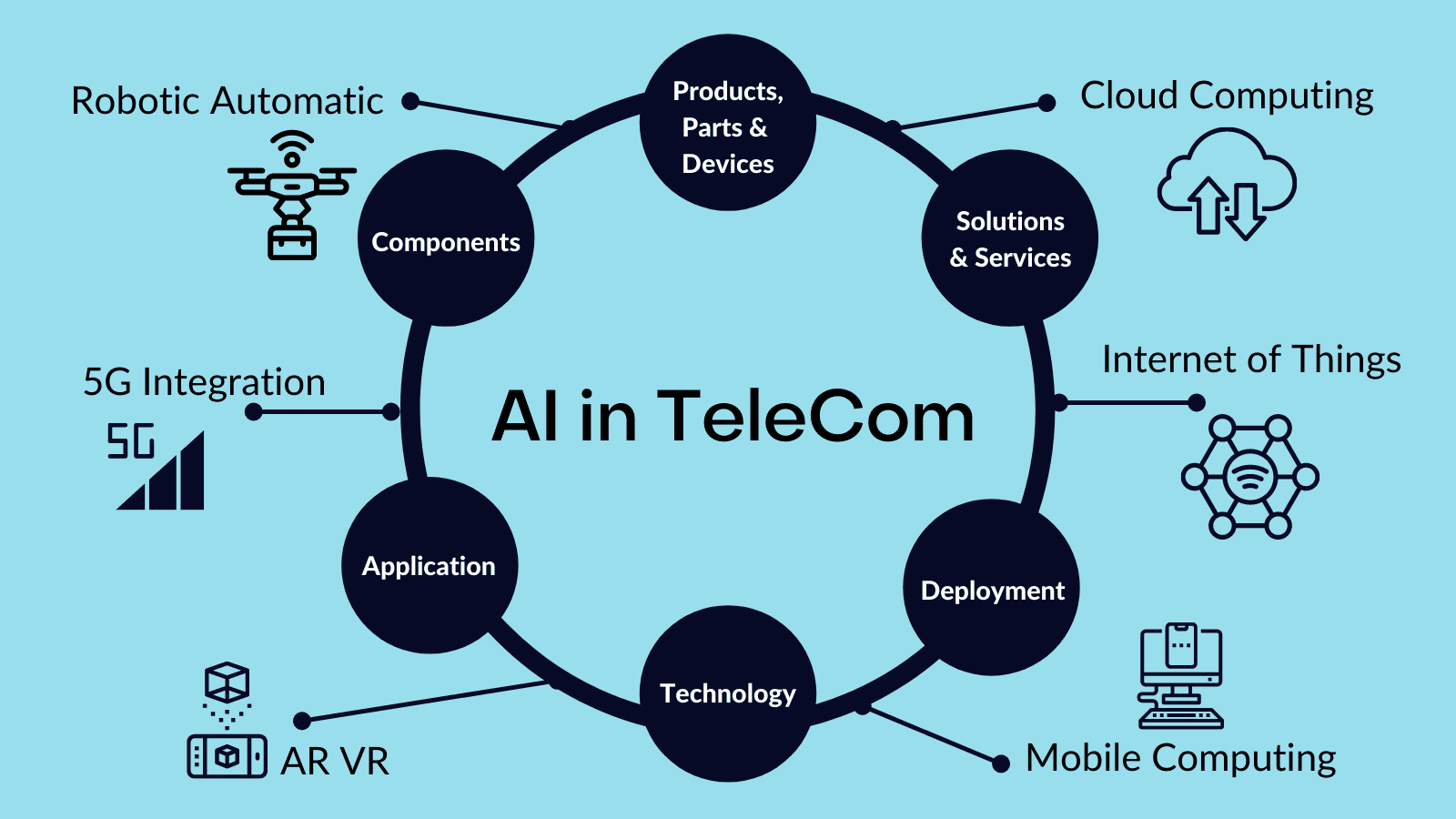 1. 5G Integration
Amit Dua, CEO of Signity Solutions says, "5G in telecom brings much more to the table than just excellent speed throughout the processes. It empowers massive machine-type communications that support IoT, which is currently being adopted by many industry verticals.
In addition, it provides exceptionally reliable low-latency communications for mission-critical applications."
2. RPA
In the telecom industry, it is important that all rule-based processes produce accurate results.
With robotic process automation, errors are reduced and value-added data is provided more efficiently.
Here's a case study of RPA in Telecom: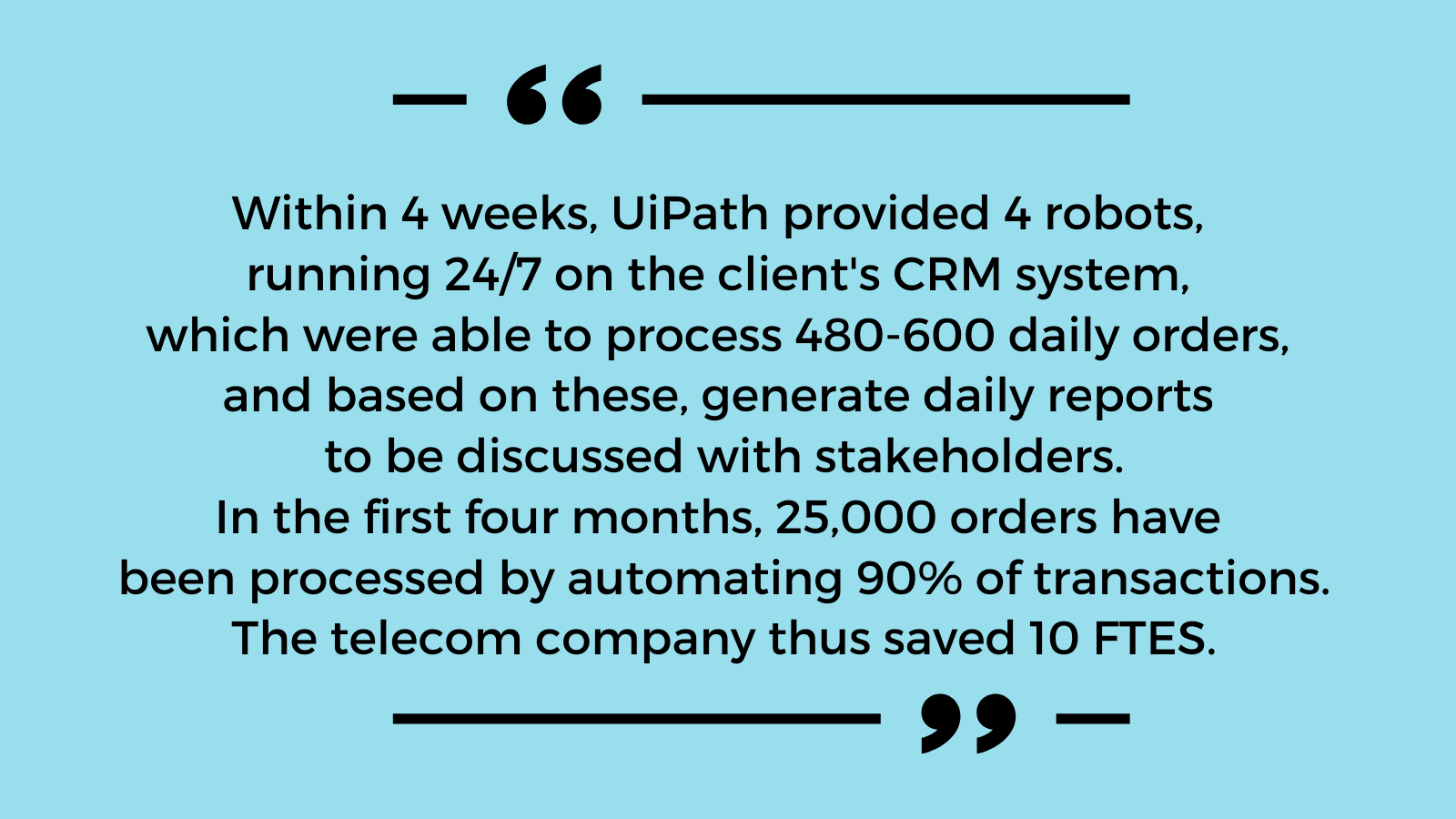 3. Internet of Things
Telecom relies heavily on IoT for streamlining business processes and delivering a range of products and services.
Business owners can now connect and communicate with people by creating IoT-enabled devices.
Telecom companies can operate and maintain telecom equipment and cell towers remotely with the help of IoT.
It also enables device management and eliminates any outrages or downtime.
4. Mobile Computing
Mobile computing implies technology that allows the transfer of data, voice, and video via computers to any wireless device.
This means users can work from anywhere in the world without having to physically develop a connection.
Mobile computing involves mobile communication, mobile hardware, and mobile software.
5. Augmented Reality
To ensure the uninterrupted and quality of telecom services, the inspection professionals can now directly provide their consultation using Augmented reality.
This not only saves a lot of time but also finds a solution without traveling to the customer's location.
The telecom equipment is viewed remotely and necessary suggestions are provided.
6. Cloud Computing
Cloud computing is a growing technology in the telecom sector. It has reduced the operational costs as well as hardware costs.
It has helped businesses with greater connectivity and integrating solutions.
Now service providers are able to focus on services rather than IT, server updates, or maintenance issues.
→ Future of AI in Telecom
Megha Verma, "AI is already beginning to reshape the future of VoIP by providing voice recognition and natural language processing for conversational interfaces.
It is also supporting meeting preparation and note taking (ie: Fireflies).
AI solutions are now available to improve call quality by filtering out background noise (ie: Krisp) and 'infilling' missing signals.
Closing Remarks:
Artificial Intelligence and its applications in the field of telecommunications are increasingly helping businesses to manage, optimize, and maintain businesses as well as customer support operations.
Network optimization, predictive maintenance, virtual assistants, and RPA are some common areas where AI has impacted the telecom industry, delivering enhanced quality and added value for enterprises.
As Big Data tools and applications become more available and sophisticated, AI can be expected to continue to accelerate growth in this highly competitive space.