VoIP, or Voice over Internet Protocol, allows the transmission of phone calls to customers via the Internet, rather than traditional telephone landlines.
VoIP enables businesses through advanced features:
Consolidate and reduce IT infrastructure.

Eliminate the traditional phone line service.

Save 60-70% on your phone bills.
VoIP (Voice Over Internet Protocol), also known as Internet Telephony, VoIP phones, hosted telephony, IP phones, and cloud-based telephony, is increasingly becoming the gold standard of today's modern corporate communications.
Simply put, unlike legacy phone systems, VoIP is a proven technology that allows people to make phone calls via their internet connection. That means you can enjoy crystal clear digital calling at a fraction of the price of traditional landlines and phone systems.
Do you want to learn the VOIP basics but don't know where to start?
Read our complete VoIP guide for beginners and learn everything you need to know to proceed with VOIP solutions for your business!
Here is an outline of what we're going to cover in our VoIP guide. Feel free to click on the links below to skip ahead to what you're interested in:
NOTE: This is an expanded guide to answer the question, 'What is VoIP,' as well as VoIP types, benefits, the VoIP implementation process. We'll cover everything about VoIP that you should know, including the cost and premium features that you can enjoy with it.
So, let's start with the basics;
→ What is VoIP (Voice Over Internet Protocol)?
VoIP is short for
Voice Over Internet Protocol. VoIP
allows you to make voice calls using an Internet connection instead of a regular (or analog) phone line. With VoIP, you can manage multiple calls on the same phone number or manage multiple numbers with a single person. That's pretty efficient!
Furthermore, VoIP is not limited to making calls. It lets you enjoy some premium features that simplify your business communication system, including SMS, chat, call recording, conference bridging, auto attendants, and much more.
However, VoIP isn't new; businesses have been simplifying communication using VoIP technology for a very long time. Did you know it started budding back in 1938? Believe it or not, it's true!
→ VoIP History: How it All Started?
" VoIP technology has set off in the last decade; however, the history of VoIP begins close to 100 years ago,

at

Bell Laboratories by the inventor of the telephone."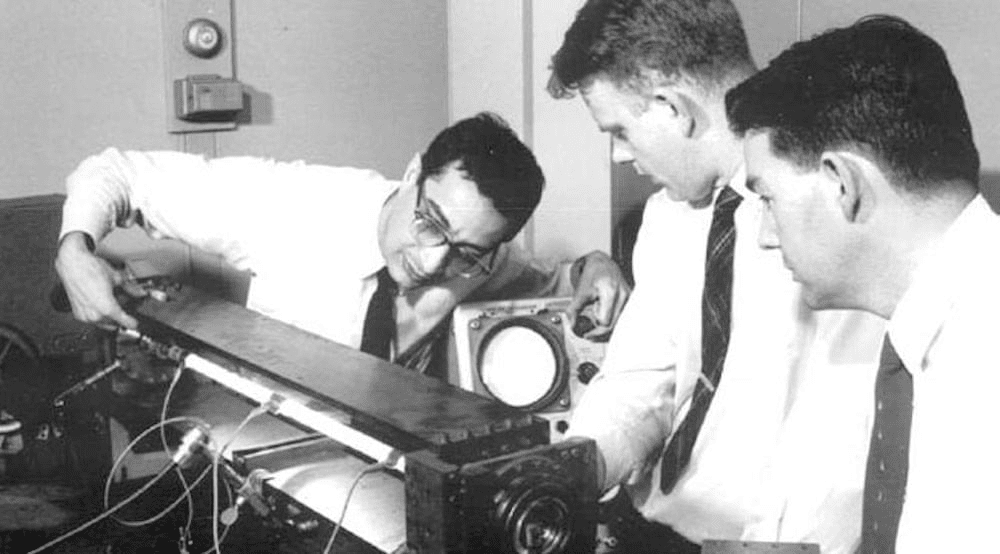 → 1938: Invention Vocoder
Homer Dudley (an engineer in Bells Labs) made the
first electronic voice synthesizer
, called the Vocoder, that seamlessly records voice samples on one phone and recreates them on the another and was made public at New York World Fair in 1938
.
If you are a geek like me, you might wanna check out this video that tells the story of the Vocoder in music, the military, cell phone technology, and more!
→ 1973: First Voice Data Packet Transmission
1973 was the year of 'First Voice Data Packet Transmitted.' It was the year of the foundation of modern VoIP technology, a result of Linear Predictive Coding (LPC), a speech analysis technique relying on a linear predictive model that first processes and then resynthesizes compressed forms of speech and voice signals.
→

1989-1991: VoIP App Released as a Public Domain
We were then introduced with the first wideband audio codec in 1988, followed by the first VoIP app released as a public domain between 1989-1991.
→ 1993 – 1996: Audio Telepresence System
In 1993, the first audio telepresence system was released, followed by the first for-profit VoIP application in 1995 and the first hosted PBX solution and SIP development in 1996.
→ 1999: Asterisk, first IP-PBX Launched
Asterisk, the first IP-PBX, was developed in 1999. After that, the world of VoIP took off. 2003-2004 became the year of Skype and Vonage, and we saw the rise of mobile VoIP in the year 2005 and 2006. It was primarily during this time that many today who have a negative view of VoIP got that bad taste in their mouths, which we will talk about later in this article.
This is because, while the technology definitely coming into its adolescence, broadband internet has not yet caught up with its older brother. This caused latency issues that were practically imperceptible to the average PC user and were usually only seen in the form of web pages that loaded slower than usual.
However, since voice calls occur in real-time, this was highly detrimental to the reputation of VoIP, which of course is 100% reliant on the quality of one's internet connection. When, oh when would we see the dawn…?
→

2010-2016: The Year of VoIP
As broadband internet quickly grew in both prevalence and reliability, VoIP went completely mainstream between 2010- 2016, and after that, we were introduced to remote work, VoIP and cloud telephony, and Unified Communications to date. That's a quick throwback to how VoIP grew into what it is today.
→ Worldwide VoIP Industry Stats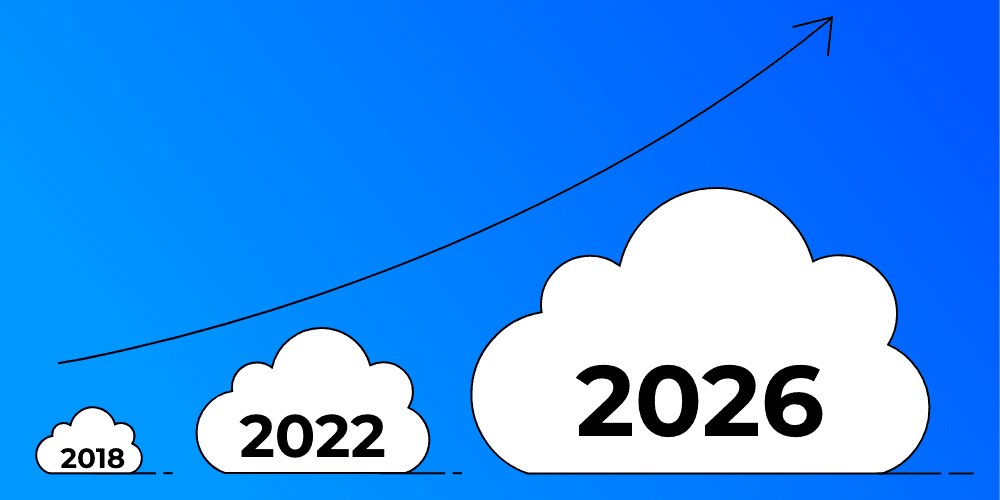 Now we know how VoIP has evolved over time since it was developed. And, today, it has become the preferred choice of professionals. Just look at these stats;
→ How does VoIP Work Step by Step? (A Revolution in Business Communication Process)
VoIP services convert your voice into a digital signal that transmits over the Internet. If you call a regular phone number, the signal is converted to a standard telephone signal before it reaches the destination.

The conversation is exchanged in the form of data packets and enables businesses to communicate worldwide in milliseconds. For internet telephony, these packets travel between a VoIP provider and other phone providers via the internet.
VoIP can allow you to call directly from a computer, a desk VoIP phone, a mobile app, or a traditional phone connected to a special adapter.
VoIP Workflow Explained in 4 Easy Steps:
VoIP phone connects to the router in your LAN.

Upon dialing a phone number, your IP phone sends a signal to the VoIP provider, who further the call to the other party.

VoIP service exchanges data packets from your IP phone to establish the call.

Your business VoIP phone system converts these signals into a sound that is audible to you.
Since the functioning of the VoIP system is relatively seamless, businesses do prefer it over traditional phones. All you need is a robust internet connection to use VoIP from anywhere and anytime.

→

VoIP Types: Know the Difference
VoIP solutions have taken over the communication sector by storm. And, if you are planning to implement VoIP technology, you need to choose the right VoIP type for your business.
VoIP comes in many different types. Generally, the difference between VoIP solutions is based on the level of complexity. So, let's know what these types of VoIP are so that you can understand what best suits your business needs.
Primarily, VoIP technology is divided into four major types, which are as follows:
1. Hosted IP PBX
Also known as Virtual PBX, it is a private branch exchange delivered as a hosted service. Wow, that was a lot to say!
Essentially, this just means that the "brain" of the phone system is stored in the cloud, instead of in an on-site piece of hardware at your location.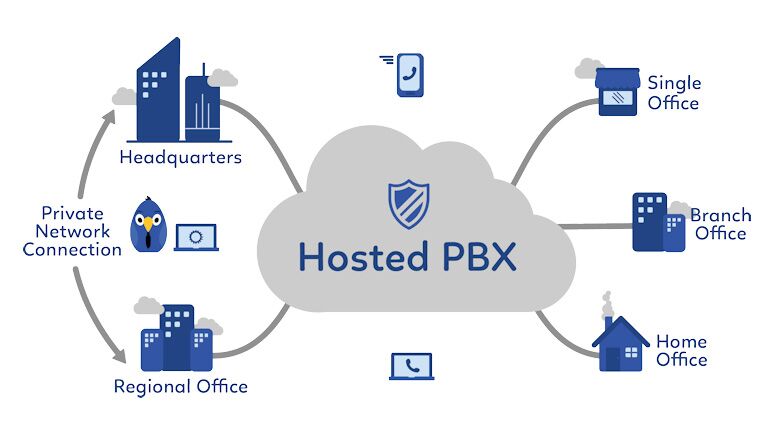 Source: Sarvosys.com
This VoIP type comes with time-saving features like no installation, operation & maintenance cost. How is that possible? Because the VoIP vendor entirely manages the phone system hardware!
Hence, businesses don't have to maintain the phone system hardware, its security, and upgrades themselves. This means no more having to wait on a phone vendor for a week to charge you $300 or more in order to change the function of your phone system!
Overall, it saves a lot of time, effort, and cost, allowing businesses to focus on more productive activities. It even keeps the initial investment into a phone system to a minimum.
Hosted IP PBX is an ideal solution for SMBs
Giving them easy access to a user-friendly control panel to manage the phone system. They can quickly get access to hundreds of interactive communication features, including call-queuing, auto attendants, video conferencing, on-hold music, and more. This type of service allows them to keep their existing phone number while taking advantage of the most up-to-date technology.
Why is Hosted PBX suitable for your organization?
Allows employees to work faster and more efficiently as they can work from anywhere while still having complete access to the office system via their preferred device.

Employees enjoy features like screen sharing, business SMS, conferencing, and establishing almost instant contact with other employees and customers.

CRM integration streamlines business processes, as customer data is instantly at the employees' fingertips as soon as someone calls.

Offers plug-and-play functionality that keeps your business communication system up and running without any disruption.
2. Integrated Access (IAD)
VoIP phone is just like your traditional phone system. Unlike Hosted IP PBX, Integrated Access operates when the VoIP system is integrated with your existing business phone system.
Often, businesses rely on this option because they don't want to lose access to their old phone system, perhaps because they don't like change or because they want to get the most out of their initial investment.
However, by doing so they may not be able to take advantage of newer developments in phone system technology that are rapidly evolving.
Why do businesses rely on Integrated Access?
It is a simple solution to efficiently maintain all local, long-distance, international voice calling and data services from just one service provider.

Ability to continue using existing equipment

Cost-saving as single and multiple business locations can easily leverage the benefit of a single technology.
3. Managed IP PBX
This version of the unified communication solutions is somewhat similar to Hosted IP PBX. It is outsourced to a third-party provider who monitors and manages all business communication requirements. A vendor holds the complete responsibility to configure, update, and upgrade the technology frequently, as per the business needs.
However, the phone hardware is off-site, the equipment is housed on-premise by the organizations. If you opt for this option, you will be charged based on the number of phone lines you are using.
4. SIP Trunks
Also known as Session Initiation Protocol, SIP helps transmit voice and video information across a data network. It allows users to explore the benefits of shared lines to improve the flexibility of business communication. Businesses may rely on a VoIP gateway to integrate their legacy phone system with SIP trunking if their existing system does not readily integrate with SIP.
SIP Trunks are highly flexible and easy to integrate with a PBX. Also, businesses may save money when using SIP Trunks as they pay only for the minutes used, reducing the need for physical phone lines.
How to Choose the Right VoIP Technology for Business?
Are you confused about choosing the right VoIP technology for your business? We understand, and it is important that your company selects the most suitable VoIP technology for your business.
For instance, managed PBX is an ideal option for businesses that don't have enough resources to invest in their VoIP systems. SIP trunks are best suited for those who want to be hands-on, managing the phone system themselves. Hosted PBX gives you the most advanced features for the lowest price, with easy implementation and almost zero management and up-front cost.
Hence, to pick the best VoIP solutions, you must first identify the business need for a communication system.
→ Why Use VoIP?
There are numerous reasons why you might choose VoIP services.
If your company plans to switch to a better business communication
alternative to that of the traditional phone system, we recommend you consider switching to some type of VoIP service.
Video content source: PCMag
Here are some questions answered to make the switch easier:
Qn 1: Is it easy to use VoIP?
Absolutely! A VoIP system is easy to use and set up. The main prerequisite is having a reliable internet connection and a stable network. Your voice will be heard clearly no matter who you are calling, thanks to the HD audio technology. There is nothing technical, nothing messy – VoIP setup and usage are simple. If you choose to use a mobile app – just download it, sign in, and you are all set to make your seamless business calls.
Qn 2: Can you use a VoIP Phone like a regular phone?
The good news is that you can use a VoIP phone just like a regular phone. VoIP phones operate just like any other phone; the only difference is that instead of connecting via a telephone line, an internet connection is used.
Qn 3: Can I Use VoIP on a Mobile?
Yes, you can use VoIP on a mobile phone. It is an effective and low-cost way to communicate using your cell phone and attain seamless communication with the other party.
You don't have to be anywhere near your desk to make or receive business calls. That means you can easily take your customer's calls as though you were at your desk while you're waiting in line at Starbucks for your caramel macchiato… mmmm.
→ Advantages of VoIP
Even though VoIP advantages are evident, some people are skeptical about using a VoIP solution for business. The most common misconception is that VoIP is not suitable for their business.
They either believe that VoIP is unreliable, due to their knowledge of it from 20 years ago, or that this technology is just meant for big organizations.
Nothing could be further from the truth!
VoIP offers Easy Scalability

Hassle-free Installation

Cost-effective Solution

High-Quality Calls/Sound

Remote Supportive

VoIP offers Easy Scalability
Businesses demand scalability when there is a need for organizational change. However, traditional phone systems are less flexible in this regard. Using VoIP, you can easily scale your number of phones and phone lines, without breaking the bank. VoIP offers a cost-effective service allowing businesses to add or remove lines with complete seamlessness. VoIP lets you pay only for services that you need for your organization.
A VoIP system is easy to install – that means even if you are not a tech-savvy professional, getting this phone system up and running is not a concern. You can add users and use highly reliable dashboards to make all your necessary changes at any time—no more fiddling with any hardware components. You can even manage your VoIP services hassle-free from your mobile phone!
Businesses and customers have realized VoIP benefits reduce the cost otherwise spent on phone bills for outdated technology and service.
Since Voice Over Internet Protocol doesn't need an on-site phone system to make calls, you can easily save money on the phone system and service, as well as other related business expenses. Overall costs are minimized by approximately 65% when you are using VoIP solutions for business.
There is a noticeable difference in the call quality when you use a VoIP system over those traditional phone systems. A person's voice might be fuzzy or muffled when you are using traditional phones. But that is never the case with VoIP thanks to the HD Audio programming available in today's VoIP phones.
Let's face it, the landscape of business is changing. Did you ever imagine in early 2020 that many organizations would be going completely remote due to a worldwide pandemic? Yet, here we are, a year later having to deal with a new normal.
VoIP phone service is available whenever you need it, irrespective of your location. No technical setup is required. You can quickly fulfill the 'work from home' criteria now and in the years to come.
→ Disadvantages of VoIP
Since this is an honest outlook of 'What VoIP is and how it affects your business,' we won't hesitate to touch on a few downsides of VoIP as well.
We understand that any technology will bring both pros and cons to a business. However, these concerns are small enough to be worked through if we pay attention to them.
Robust Internet Connectivity Needed

Power Outages Might Sting

Increasing Cyber Attacks

Robust Internet Connectivity Needed
VoIP doesn't work well if you don't have a stable internet connection. However, all you need to do to fix this problem is figure out a way to obtain a reliable service provider. That's all! And, that doesn't seem to be a significant concern when you do thorough market research to figure out the best internet provider in your location. Full Disclaimer here: TeleCloud does offer great rates on internet circuits throughout the nation to make this part easy for you. (I know that seems more like a plug than a disclaimer, but I digress.)
Power Outages Might Sting (But Maybe Not As Much As You'd Think)
If there are frequent power outages at your location, you may be used to your current phone system going down too, since it is also reliant upon external power.
Some businesses counteract this by keeping a plain old Banana phone somewhere on-site to make/receive emergency calls during these times. (anyone else getting nostalgic or is it just me?)
Considering the rising number of cybercrime around the world, the importance of VoIP security has become essential. Phishing attacks, scam calls, malware, and other unknown security threats have put the business in disastrous situations.
VoIP is believed to be the prime source of cyber attacks. However, this is often more of a risk with systems that are deployed without proper expertise in this type of technology.
If your VoIP system is designed and implemented by encrypting your traffic, maintaining a firewall and network security, as well as taking proper precautions for possible security breaches and DDOS attacks, you'll be fine. At TeleCloud, we take this very seriously.
→ How Much Does VoIP Cost?
Everyone who is a newbie to VoIP technology asks – 'What is the cost of VoIP?' So, here's the actual cost of VoIP to know what you are paying before investing in it.
The answer is, it depends. I know, that's not quite the answer you were looking for, right? But put simply, the price often depends on two main choices, the features you are looking for and your chosen service provider. Most VoIP providers decide the cost based on the number of VoIP users. Hence, it is essential to consider all these factors.
Take a look at the System Features section below to get a good idea of what features you might need for your business, then reach out to one of our consultants for a no-cost consultation to see what VoIP system would be right for you.


Let's explore some essential VoIP features that you must get with a new VoIP system.
→ Top Features of VoIP Phone System
Here are some essential VoIP features that you must get when investing in a VoIP phone system:
We never realized a little more than a year ago how reliant we'd all be on video conferencing. You can efficiently conduct online meetings with people nationwide and set up web conferencing as an efficient marketing tool for your business. Although many still meet in person the way they'd like, sometimes, it is essential to see people on the other side to make meetings more effective. Video conferencing solves this issue with flying colors!
If you are like me, there are times it is just easier to read a voicemail quickly while in a meeting or between tasks, rather than listening to the entire message. Voicemail transcription, also known as voicemail-to-text, is a great way to have that extra efficiency.
This is NOT your mobile phone's caller ID. A VoIP system can not only give you the caller ID of the person who is calling, but can also ID the REASON for their call by utilizing Advanced Call Routing, mentioned a little later. This means that when your receptionist answers the phone they can actually see a message like "SALES REQUEST: Mary Bowman 817-555-1212". With such information in advance, you can plan, prioritize, and strategize your business communication for more effective results.
Unattended messages can be a big turn-off for your business. Why not use the voicemail to email features which automatically send voicemail messages to your inbox for faster response? That way, you check your messages quickly and respond to customers faster.
Hosted VoIP allows you to prioritize, hold, route, and block incoming calls without any hassle. And, with such seamless call management, it is easier to minimize the customer waiting time. With call queues, you can even allow your customers to opt-in to receive a call back when it is their turn in the queue, instead of tediously waiting on hold.
Direct all incoming calls using the advanced call routing feature of VoIP. It is easy to categorize calls based on customer type, specific departments, agent performance, and available users.
Tired of seeing those pesky nickel-and-dime minute charges for every call you make? Choose a solution that gives you access to the 'unlimited calls' feature. Stop using those limiting phone solutions when you can go for a more cost-effective call solution method, offering you unlimited calls without a fluctuating bill.
Anonymous Call Disconnection
We understand that calls are essential for your business. However, not every call is worth attending. Nobody wants to waste time attending those fake spam calls that keep your staff from focusing on actual customers. Use the 'anonymous call disconnecting' feature to keep such pointless calls at bay.
Give the power to your customer to choose what department they would like to speak with. An auto attendant allows the customer to press a number on their keypad to be connected to whatever group of people you set up such "Press 1 for Sales, Press for Billing" and so on.
Leaving those critical business calls unattended will only impact your business negatively. With this feature, it is easy to take office phone calls on almost any device and from anywhere, even on external numbers.
When the call attendee is not available, use this feature of VoIP to park the call. This allows anyone on the team to hit the 'shared parking' option on their desk phone to pick up the call from any other phone in the office.
Using this VoIP feature, you can easily add multiple people to a single call simultaneously. It helps you communicate your message to multiple people at once, allowing you to save time and effort.
Get the accessibility to send and receive calls on almost any device using a Softphone. With VoIP Softphone, you can make calls on your PC, mobile device, or tablet, even being able to utilize wired and Bluetooth headsets to easy communication.
Needing more than two heads to solve a problem in business is common. Hence, three-way calling is just the right approach to solve concerns faster or achieve the next milestone more quickly.

Check all the VoIP features here.
Upgrading your phone system is no longer a daunting task. Read on to see how you can implement VoIP in just a few steps to experience an upgraded calling system for your business.
→ Implementing VoIP Services into a Business
Here's a quick step-by-step short guide on how to migrate from your traditional phone system into a highly efficient VoIP system that helps your business discover its maximum potential.
Quick Steps For VoIP Implementation:
VoIP Implementation Requirements

Implementation Planning

Pick a Reliable VoIP Provider & Equipment

Ready with VoIP Implementation
1. VoIP Implementation Requirements
When beginning to implement VoIP, figure out the answer to these questions:
A high-speed internet connection is a must-have for a business that relies on calls for communication. Internet Protocol telephony doesn't require much bandwidth.
However, it is generally recommended that your business only uses only up to 80% of your total available bandwidth to keep your network uncongested. This means that you will always need more bandwidth than you actually use.
It is next to impossible to forecast every network condition. However, being ready to deal with such a situation is crucial. For instance, lots of bandwidth can be used for more mundane tasks in your business such as transferring files, watching videos, or installing updates. Hence, it is important that you optimize your network to prioritize your VoIP traffic and let Johnny do his YouTube watching at home!
2. Implementation Planning
When planning to implement VoIP in your business, here are some things to consider first.
Keep in mind, these are just suggestions, but it is often easiest to allow one of our consultants to guide you through getting the answers to these questions if you are feeling overwhelmed:
Identify your actual phone requirements and the essential features you will need in your business communication system.

Be sure that you have a high-speed reliable internet connection.

Consider the cost spent on existing phone services to understand what is currently being spent on communication. This will help you to see how much you can save by switching to VoIP.

Identify what numbers you will be ported to your new carrier and make sure you have all the related information for those numbers on file with your current provider. This information may differ from what you have, so be sure to find out what the account number, address, billing telephone number, authorized user and related phone numbers are.

Allow yourself a decent amount of time to understand VoIP technology and how it works for your organization. This will include some time during the planning process, installation, and training. A small investment indeed in relation to the benefits you will be getting.
3. Pick a Reliable VoIP Provider & Equipment
When you have planned to switch to VoIP and want to choose the best and most reliable VoIP provider, you will have to consider a few things like;
Does the provider offer personalized service for you and your business?

Does the VoIP service provider have positive feedback and reviews from past customers?

And, most importantly, will they be able to deliver reliable uptime?

Next, before you move on, it is critical to consider the following points:
Check your requirements with the VoIP Provider
What features do you want in your business phone system? For example, caller ID, call waiting, and forwarding is standard features you get with VoIP. But do you need additional premium features in your VoIP systems such as call recording, CRM integration solutions, or Call Queues? Before you commit to a particular VoIP service provider, first have in mind what you'd like to see from your new phone system.
Narrow Down the Choices to Fit your Budget
How much is your company currently paying for your business phone services?

If your current system is outdated, how much would you have to pay to replace it, including cost of labor?

How much is your company ready to pay for the new VoIP system?
Compare the features, plans, and pricing of both the existing phone system and the new one before finalizing anything. Find a VoIP provider that fits your budgets as well as your communication needs.
Eventually, you will need to choose a VoIP provider who fulfills your business needs while being within the set budget. After all, every business wants to save on its bottom line, and this means controlling the costs associated with your operating expenses.
VoIP is not just limited to three-way calling or extension dialing (like those traditional phone systems).
VoIP systems help your business experience accelerated productivity with your existing collaboration tools, including CRMs and emails. Such third-party integrations streamline business communication. However, you will have to discuss all the integration with the VoIP service provider first.
Having a mobile app for your business phone system means enjoying the complete freedom to take up calls from almost anywhere.
Even if you don't think you'd use it today, we recommend putting this high on the priority list. We find that for many of our customers, once they start using it, they very quickly cannot be without it. When using the mobile app, your customers will see a business phone number rather than your number. Look for the customizations in the app as well.
Switching to VoIP brings in its challenges like – how will your business become familiar with this new communication system?
So, when looking for a reliable VoIP service provider, make sure to ask for unlimited support and training to introduce it seamlessly into your business. You must be able to access live chat support, phone support, and a dedicated consultant who can help you wade through a tough decision. Your new provider should want to help you get the most out of your business now and in the future.
4. Ready with VoIP Implementation
It is the right time to take your brand new VoIP system out for a spin. Since now the VoIP implementation is complete, it is recommended that you recheck networks to ensure that the VoIP system is ready to take off. Make sure to be in touch with the VoIP provider to ensure smooth business communication now and in the future.

→ Why Choose TeleCloud as Your VoIP Service Provider?
TeleCloud is an industry leader in tailor-made and unified solutions that are interactive and highly affordable. Our vision is to deliver to every business a premium technology solution to seamlessly achieve their business goals with a centralized, reliable, and trustworthy communication system. We deal in services like:
Business Internet

Communication Consulting

3CX Service and Support

Hosted VoIP

Data Backup and Recovery

Custom PBX Integration

Managed Network Services
We deliver solutions that are tailored to each client's unique requirements, and our services are inclusive of all hardware, software, and support. If you are interested in learning more about what we offer, we invite you to contact us anytime at inquiries@telecloudvoip.com. We would love to hear from you!