Do you know of any business (small or large) that doesn't require phone service? For obvious reasons, every business demands a reliable phone system for calling customers, speaking to vendors, and coordinating with teams. Of course, the usage of smartphones, chat apps, and emails can't be avoided. However, nothing matches the reliability of the 'always-on' hosted business VoIP phone services. And, that's what businesses need – a constant, reliable, and dedicated phone service that doesn't interrupt your business flow. But don't mistake every phone system as being equal.
Your business needs a robust phone system that is:
Reliable

Accessible

Secure

Credible
And, all that in one phrase is 'VoIP.' Now, let's understand what VoIP is and how it works.
What is VoIP?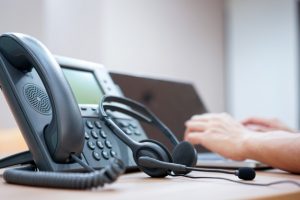 VoIP is an acronym for 'Voice Over Internet Protocol' and is most often used now synonymously with making phone calls over the internet. It's not a new concept.  Since 1995 businesses have been using it as a means to save money on both long-distance and international calls.
Now, more than 25 years later, VoIP is becoming the new standard in phone system technology. VoIP facilitates calls using the internet and also delivers useful functions, including call recording, forwarding, video conferencing, voicemail, and more. 
How can VoIP help your SMB grow?
While many people think of their phones as simply a passive device, savvy business owners see the benefit in leveraging Voice over IP to do more for them than simply make calls. In this article, we will discuss just how VoIP can be useful for your business, step-by-step. 
How to Know If your Business Needs VoIP?
Start by considering your business activities, objectives, budget, and anticipated call volume. Then, ask yourself:
Does your small or mid-sized business rely heavily on voice calls?

Would your customers like to interact with your business in other ways such as SMS or Webchat?

Do you have a hyperactive sales team that needs a phone?

Would you like to integrate your existing phone system with digital resources and tools such as a CRM or Office 365?

Will your existing phone be a reliable option for future years, especially if you are thinking of expanding your business?
How to Choose the Best Business VoIP Service Provider?
Are you upgrading your phone system to a business VoIP service? Great! Your business is going to experience certain benefits, such as:
1. Figure out the Best Pricing & Plans for Your Business
No business wants unneeded expenses. Hence, it is important to research a few plans, analyze them, and figure out the best one for your business. Think in terms of a pricing structure that works for you today, and possible pricing that you can lock in for the long term, even years to come.
If you are a small or medium-sized business, obviously you are not looking for something super expensive. VoIP is a smart solution for your business that often costs less than traditional phone systems.  
2. Mobile Apps
Don't worry about VoIP solutions not matching your business needs. VoIP solutions come in categories that ideally match the unique requirements of different businesses – be it small, medium, or large.
Mobile app solutions for your business give you the complete freedom to make and receive calls from almost anywhere, as though you were sitting at your desk! This means that when calling out from your mobile app, your customer will see your business number, not your personal cell phone number. Get your personalized mobile app ready to make communication more seamless.
3.Third-Party Integration
Did you know that VoIP services are not just limited to three-way calling and extension dialing like traditional phones? It offers a lot more, including video conferencing, integrating productivity tools, call forwarding, automation, and the freedom to take calls from anywhere.
VoIP services help your business to increase productivity with your existing collaboration tools, like emails, and other support systems. Such integration with your preferred CRM software helps streamline business processes.
4. Seamless Call Management
VoIP impressively handles all your calls (audio and video). With such seamless call management, you can ensure your teams and customers enjoy an uninterrupted communication system.
However, since VoIP is wholly dependent on your data network, look for a VoIP team that is knowledgeable enough to educate you on proper VoIP setup to make sure you have a smooth transition. This means examining your local network bandwidth, network traffic and health, router and firewall, and internet connection for delivering high-quality calls.
5. 24×7 Support
Opting for VoIP for the first time comes with its challenges too though. One such challenge is becoming familiar with all the features which VoIP can offer that could benefit you and your business. How can you meet the challenge? 
When getting VoIP, look for a company that offers unlimited support and training. Phone support, live chat support, and a dedicated consultant must be available to assist you. Look for a company that will help you to get the most out of your system now and into the future.
6. Secure & Reliable
Data is the biggest asset for any business. And, you can't risk this vital asset of your company. Hence, communication channels for partners, teams, and customers should be reliable and secure.
Partner with VoIP providers who deliver encrypted, authentic, and highly secure systems. Make sure the provider provides appropriate redundancy and failover options. 
7. Types of VoIP Required
Figure out which VoIP technology suits your business. What type of business calls does your business do- local, long-distance, international, or even SMS?
After accessing your technology choices, select the best business communication solutions, including VoIP phone solutions, locally managed IP PBX, Hosted IP PBX, Integrated Access, PRI, and SIP trunks.
8. Backup Feature
Do VoIP solutions offer backup and recovery solutions for your business? They certainly can! Your business data and customer details are important, and you cannot afford to lose them.
You need a service provider that offers vital backup solutions, including mirrored PBX systems in the cloud. In short, you need to have confidence that your provider is prepared, in case disaster strikes.
9. Onboarding & Care
Planning to expand your business? Thinking about adding more users to your business? Great! VoIP offers reliable solutions to onboard users and with proper execution, it is easy to expand your business and manage employee communication.
10. Reviews, Ratings, and Personal Attention
How successfully has your VoIP service provider satisfied their clients in the past? For that, scrutinize the reviews & ratings of providers hired. Reviews and ratings have the power to impact customer decisions. 
Also, make sure your VoIP provider doesn't see your business as just another number. Will they give you personal attention, now and in the future? First, build trust, then make your buying decision. 
Conclusion
VoIP is an ideal solution for SMBs as it delivers holistic solutions for your business communication issues and provides you:
Lower costs

HD quality calls

Advanced features (auto-attendants, call queues, call recording)

No technical setup

Easy International calls
The reduction in costs, ease of use, and access to highly advanced features make it an apt solution for every business. Give your business complete freedom with premium VoIP solutions.

This Blog is Originally Published at Bubble Life.