When looking for a reliable business internet connection, you will likely come across two terms, broadband internet' & 'dedicated internet.' However, you might find it challenging to find the best one that matches your business based on cost, security, performance, and reliability.
This post will explain how dedicated differs from a shared broadband internet connection and might be right for you.
Table of Contents:
Let's discuss in detail;
→ Dedicated and Shared Internet Connection – An Overview
Enterprises increasingly rely on a good bandwidth for handling critical business processes. That means it is essential to weigh the advantages & disadvantages of both of the best options available before finally placing your bet on one.
So, first, let's start with the Dedicated Internet Connection;
→ What is Dedicated Internet Connection/Access (DIA)?

Counted amongst the best options, dedicated internet access (or DIA) connects your business and the web via a dedicated private connection. This means that your business gets a dedicated project manager and team to ensure that the activation of your internet circuit goes exactly as expected during setup and implementation.
A dedicated connection also provides that your business will not be sharing internet bandwidth with other subscribers, meaning that the speed you pay for is the speed you'll get.
Most often, dedicated internet access provides you with symmetrical upload and download speeds. This, along with the private connection, means that even during those mid-afternoon rush hours, when every one of the neighbors seems to be coming home and streaming videos and games, your dedicated business internet connection will maintain a steady speed at all times.
You might think of it as owning an empty lane on a highway, smooth sailing the whole way without traffic jams or interruptions. Also, because of the Service Level Agreements (SLA's) provided by dedicated internet services, you will experience a 99.999% uptime, performance, and speed. All this adds up to one thing – uninterrupted, productive business operations.
Dedicated internet circuits provide businesses with a service that can meet higher bandwidth demands to connect multiple devices within the company without lag or delay.

→ What is a Shared Broadband Internet Connection?
Broadband is generally a shared bandwidth internet connection that multiple customers utilize. That means the bandwidth is divided amongst various subscribers, not just one. This does not mean that a business can see or access the private files of subscribers from another network. It just means that the speed they are getting is more of a community bandwidth speed and is not guaranteed.

A shared broadband internet connection is generally best for businesses that don't heavily rely on their internet connection for day-to-day operations. This type of internet connection is usually preferred by small and medium-sized companies or as a redundant backup solution.
With a shared internet connection, speed can fluctuate throughout the day!
Download speed decreases when the network is clogged up with activity from other users. Yes, that includes users like all the teenagers who get home from school and decide that 3:00 is the best time to stream videos and play their favorite online games.
Although businesses must pay a premium for internet services, they may be subject to varying speed and consistency in broadband services.
With a shared internet connection, such as that offered by a cable service provider, it is not out of the ordinary to get 50-75% of the advertised speed on your bill. That means that if you pay for a 200mbps service, you may receive as minor as 100mbps, and the service still is considered acceptable. This may not be a problem for small businesses since fewer people and less mission-critical share their work over the internet.
→ Points to Remember while Choosing an Internet Service
Choosing an Internet Service Provider for business can be difficult if you are unsure what to look for. You may have to go through mountains of contract details, never-ending plans, and packages, & research to find out who has the most reliable connection for your business.
Yet, with all this in mind, you could still end up making the wrong choice. So, when you choose your internet carriers, just keep these points in mind:
Research the best internet providers in your area

Compare prices, plans, speed, and reliability

What are your business requirements in terms of cost, speed, and support?
→ Dedicated vs. Shared Broadband Internet – Know The Difference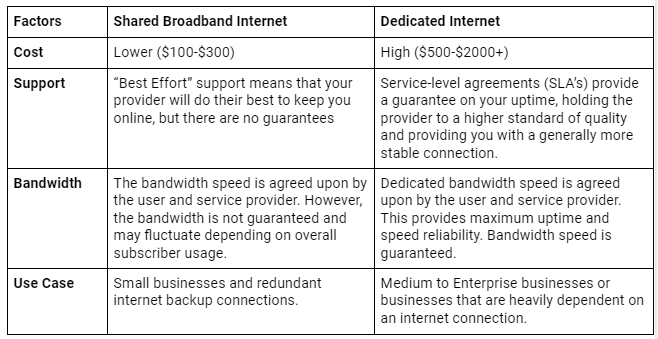 → What Impacts will Shared & Dedicated Internet have on Businesses?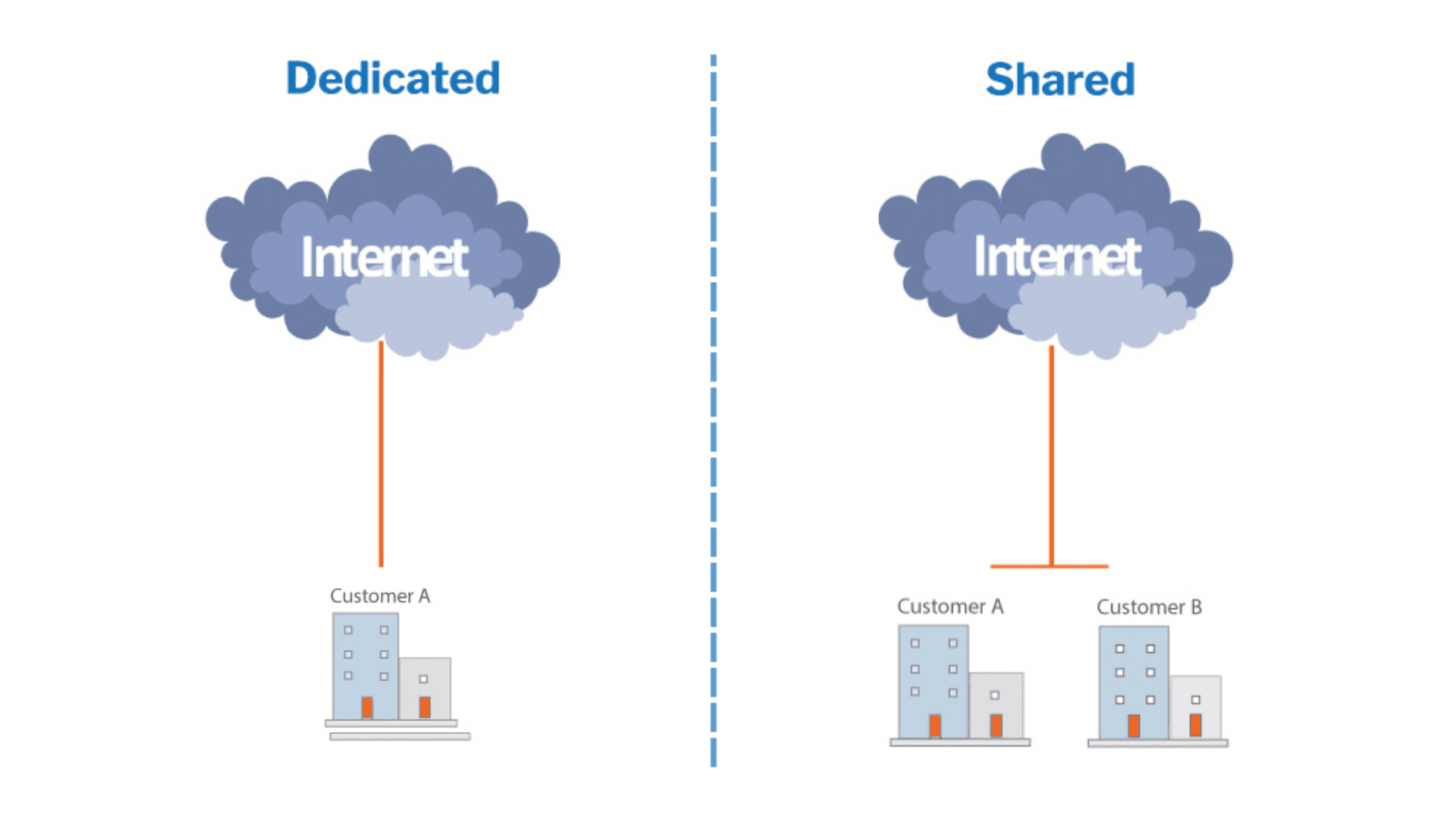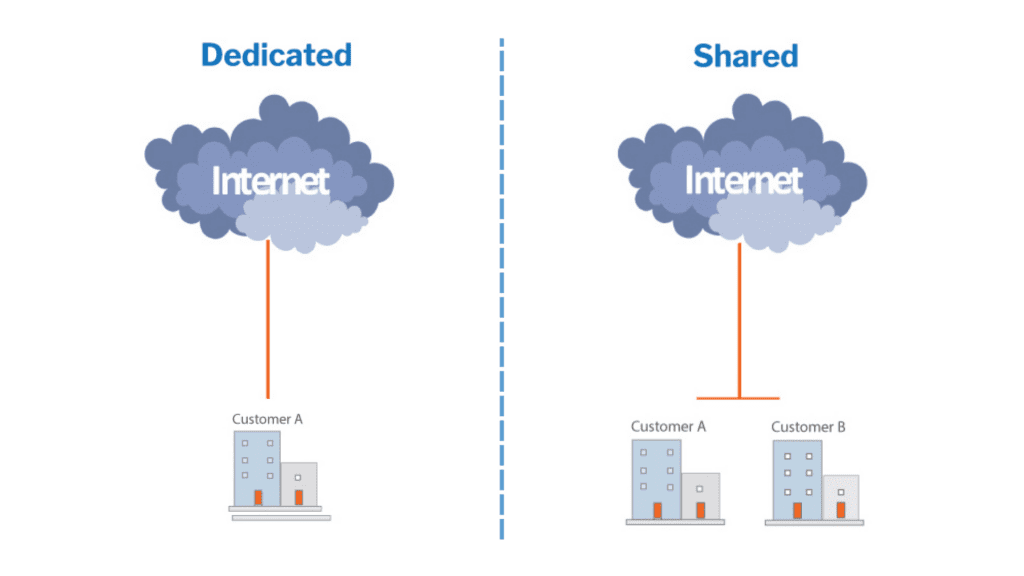 Both shared & dedicated bandwidth impact businesses differently. Let's understand the advantages and disadvantages of both the internet connections.

→ Advantages of Dedicated Internet
1. Guaranteed Bandwidth: Dedicated internet guarantees a specific bandwidth speed for your business. It is one of the purest forms of business internet that comes with no restrictions on monthly uses. That means you can manage your emails, support critical business applications, and even host a website without any interruptions. Guaranteed bandwidth ensures your business operations are always running smoothly.
2. High Speed: There is an opportunity to grow your business when a reliable internet connection is available. Your business will receive a fiber or copper-based connection to your location. Hence, speeds are available up to 10Gbps! The low congestion rate also helps deliver higher speed and connectivity to the business that has opted for a dedicated internet connection.
3. Enhanced Productivity: A dedicated internet connection ensures that your staff focuses on productive tasks rather than dealing with the same old internet problems, slow speeds, and the like. Since connectivity and uptime are constant, it is easy to focus on critical business tasks for enhanced productivity.
→ Disadvantages of Dedicated Internet
1. Cost: The foremost downside of a dedicated internet connection is the cost. Since the plans and arrangements are dedicated to a specific business here, the cost charged is on the higher side.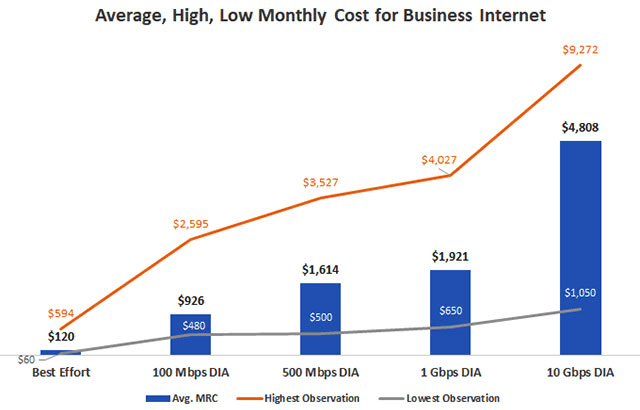 2. Complex Process: The installation process of a dedicated internet connection is complex. It requires network provisioning, equipment installation, and truck rolls, which often takes longer than shared broadband. This could be at short as 60-90 days or longer if construction is needed.
→ When is DIA a Good Fit?
How to decide whether DIA is right for you or not? Think about both ROI and the potential liability of a bad connection. From an ROI point of view, a good internet connection maximizes your employee's productivity. Alternatively, a poor internet connection diminishes overall productivity while making employees frustrated.
Wondering how much a good internet cost? Compare it to the operational costs, amount spent on a lease, and cost indulged in keeping employees motivated in an environment that runs on a poor internet. Does internet cost seem worth skimping on now? It might not. The Internet, indeed, is the lifeblood of any business. So, if the internet is at all an essential part of your business, it must be on your radar.
Tip to remember: Best-effort connections lack SLA support. That means downtime may be higher, delivering degraded internet quality. Just a few outages or poor latency events, and you may find that the headache of a shared broadband connection is just not worth the discount in price. In such a case, a dedicated internet connection is a must.
→ Advantages of Shared Internet
1. Lower Costs: A Shared internet connection helps businesses save money. The cost of shared internet is comparatively low, which makes it an ideal choice for SMBs.
2. Potentially "Higher" Bandwidth speeds: Since broadband is less expensive, you may get a faster internet speed, at least on paper.
→ Disadvantages of Shared Internet
1. Slow Speed: Multiple customers are using the same bandwidth, which could slow down the speed of the internet. Slow connection diminishes the work progress that further affects the performance of the employees.
2. No Guarantees: Since there are no SLAs on a shared broadband connection, there are no guarantees of uptime and internet speeds.
→ When Is Shared Internet a Good Fit?
So, when is a shared internet connection a good fit? Small or medium-sized often need to focus on saving money in every aspect. Their business internet connection is no exception. Lower internet costs are much appreciated here.

→ Dedicated vs. Shared Internet Connection – The Verdict
Considering all the points mentioned above, we can conclude that dedicated and shared internet connections are geared towards two separate customer bases.
Thus, shared is an ideal choice for businesses looking for internet connectivity on smaller budgets or businesses that do not operate on a large scale. On the other hand, dedicated is for medium and large-scale enterprises who dedicatedly want reliable bandwidth for themselves, with guaranteed uptime and support.
→ Dedicated vs. Shared Internet – FAQs

Before one makes his decision about the best internet connection, it is essential to answer some frequently asked questions that help create a better decision for your business.
1. How much time does it take to install a dedicated internet connection?
It depends on your location. Generally, a dedicated internet connection takes up to 90 days of installation time.
2. Will a dedicated connection be dedicated just to my business?
Absolutely! The dedicated connection is genuine for one business. It will dedicatedly provide an internet connection to just one firm, without any interruption.
3. What is the best router for a Dedicated Internet connection?
It entirely depends on your business requirements. So, you will need to figure out your business requirements first and then decide about the router that is compatible with your needs and connection requirements.
4. Does my business need a dedicated internet connection?
If you own a medium or large business that needs low latency and a highly reliable connection, it is suggested to choose a dedicated internet connection. It helps to scale and grow business by offering dedicated bandwidth and support, which is essential to run a medium and large-scale business smoothly.
5. Why should I opt for a shared internet connection?
There are several reasons why you should opt for a shared internet connection. First, you can save on monthly costs on your internet access. Also, you may need a redundant backup connection in case your primary connection ever fails.
6. Is a shared internet connection suitable for my business?
Generally, a shared internet connection is suitable for small and medium-sized businesses.
7. How long do the repairs take in a shared broadband internet connection?
Well, shared bandwidth is sold on 'the best effort' basis. It means the carrier will try their best to keep the connection steady. However, when it comes to repairs, there is no guarantee. It depends on the service provider you have chosen. The repairs might even affect the service as well.