Did you know that when you combine VoIP and automation, you get the best results? The combination of VoIP and CRM results in more leads in the pipeline and more queries to handle.
It is important for your business to know about VoIP integration with CRM in order to customize the workflow and to build versatility. Businesses like sales and call centers are dependent on doing lots of manual work, which is prone to error. That's where VoIP Integration with CRM comes in.
→ VoIP and CRM Integration
Let's discuss these points in detail:
1. What is VoIP Integration with CRM?
VoIP CRM integration is the process of connecting a VoIP system and Customer Relationship Management software.
VoIP CRM integration enables VoIP service providers to connect a CRM account with their business phone system. For businesses, VoIP integration with CRM opens up a whole new world of communication. It allows you to synchronize different tools with the phone system; this reduces manual work.
The advantage of the VoIP phone system is that you can easily integrate it on the laptop, mobile phone, and laptop. With this infrastructure, you can easily transmit your voice over the Internet using an electronic device that has an Internet connection.
Here's an example of how every call and text is automatically saved into CRM after the VoIP CRM integration: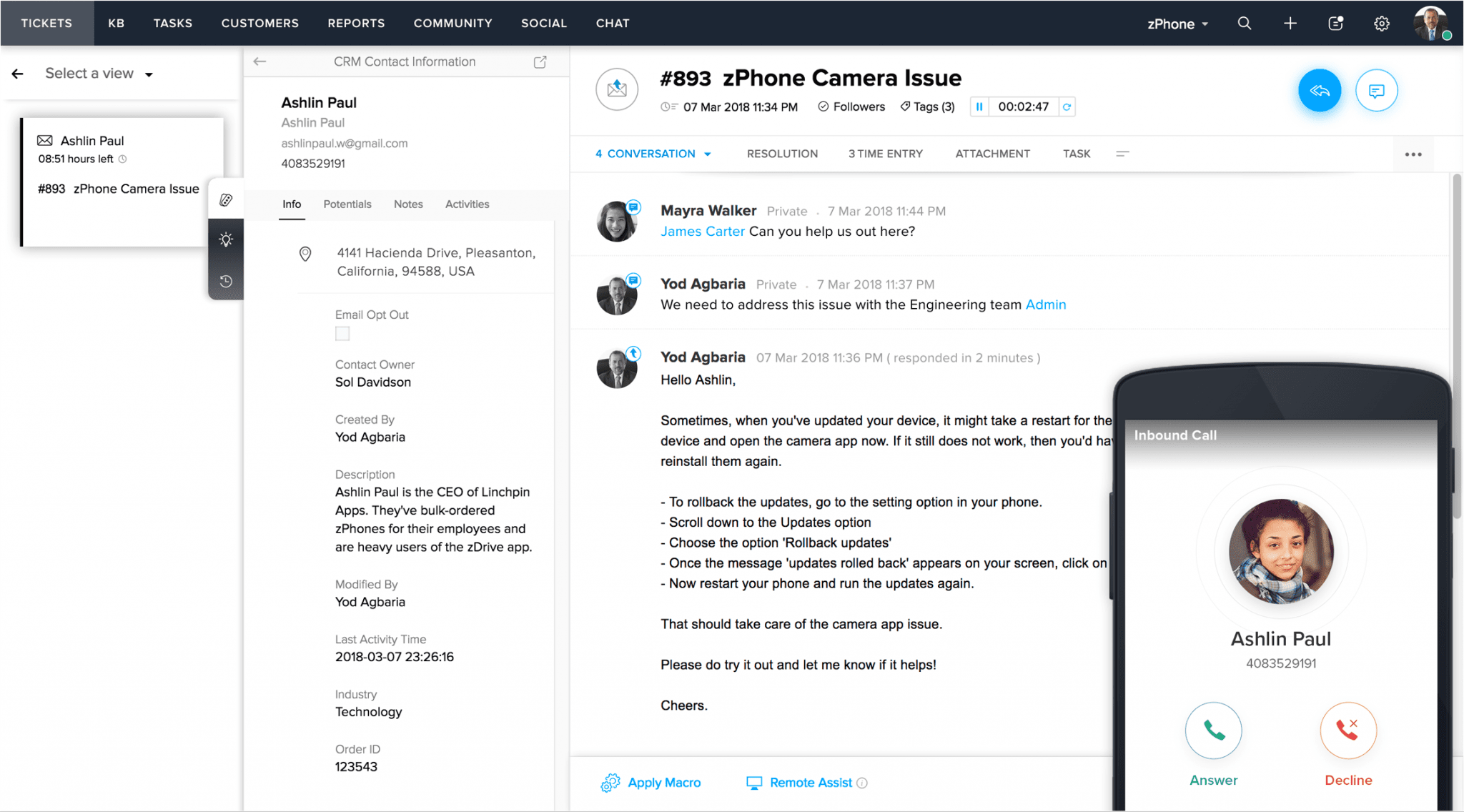 Furthermore, VoIP integration with CRM enables you to switch between tools and synchronize information between them. Using this technology, companies can also take advantage of various functions that come with manual processing.
2. What is CRM?
As per the definition by Wikipedia, Customer Relationship Management (CRM) is a tool used for recording potential customers' data based on their previous interactions with businesses. When VoIP and CRM are integrated, the information gets automatically synced between the tools, giving teams the ability to find and search anything they need.
Telesales companies that deal with customers over the phone can use this integration. Using it, they can record details and interactions effectively with clients.
3. Advantages of VoIP and CRM integration
VoIP CRM integration will streamline the sales process more efficiently. With VoIP CRM integration, handling customer queries is also easier when the agents have access to their own data.
Listed below are a few benefits you should look for when integrating VoIP and CRM:
Effective Data Collection
Real-time Calling Data
Improved Customer Experience
Scalability
Low Operating Costs
SMS and Automation Services
Improved Management
Direct calling with CRM
Streamlines Post-call Actions
Clear Call Analytics
Marketing
Let's discuss all these advantages of VoIP integration with CRM in detail;
1. Effective Data Collection:
With VoIP-CRM integration, data can be recorded from start to finish in an organized manner. This is more convenient for the sales representatives as the detailed information will help them tailor their pitch accordingly. The details are automatically synced between your CRM and VoIP phone system. This is how a call center with CRM works:
Utilizes the customer's name and number to make a call
Enter the data in the CRM
Organize all the requests and complaints
Now, take follow up on the call without having the need to consult the separate directory
2. Real-time Calling Data :
Businesses gain valuable insights from every interaction with customers. Sales representatives, for instance, can locate what potential customers are looking for using the phone, resulting in more sales.
VoIP-CRM integration eliminates the need for agents to manually enter notes for every call and record information like the phone number and the time of the call.

The integration also helps in tracking other aspects of the call like whether the call came from a landline or cell phone, and if it was a video or voice call. All of this information can be useful for getting insights from customers and improving the overall experience.
3. Better Customer Experience:
With VoIP-CRM integration, sales and support agents can stay in touch with customers in real-time. CRM integration directs agents to the incoming caller's profile, so they can focus on talking to the customer, rather than searching for information on hold.
This saves the agent time and also allows them to focus on talking to the customers rather than searching for caller data.
VoIP integration with CRM allows support agents to see a customer's past support tickets and troubleshooting history. This reduces customer wait times and increases customer satisfaction.
4. CRM Integration Offers Scalability:
Companies that experience huge growth in customers need a sophisticated phone system to handle increased call traffic. Hence, combining your CRM with your VoIP system will provide seamless scalability.
In addition, you do not have to worry about installing the new technology or overloading your employees. Instead, you can use your existing system, integrated with the CRM to handle more phone calls.
5. Low Operating Costs:
As a result of integrating VoIP with CRM, your operational costs are reduced significantly as you no longer need to purchase two different software packages. VoIP phone systems with native CRM integration will save you from having to purchase yet another piece of software.
Additionally, the VoIP phone system allows your employees to manage everything more efficiently. This increases productivity and reduces unproductive time.
Related Read: How to Make Sure you are not overpaying?
6. SMS and Automation Services:
SMS is another feature you can use with the VoIP-CRM integration. SMS allows you to have a better conversation rate with an operating rate of over 85%.
When you synchronize your VoIP phone system with your CRM, you can access several features and functionalities, such as:
Click to Text Icons: You can access the click-to-text icon with every contact. On a busy day, having a click-to-text button next to every contact can be a helpful shortcut.
SMS automation: You can use SMS automation to send text messages to your contacts whenever a condition is met. This way, you can send automated text messages as a part of the follow-up process.
Bulk SMS: If you want to get involved in SMS marketing, bulk SMS is a very impressive functionality of VoIP CRM integration. With bulk SMS, you can send marketing messages and promotional messages to bulk contacts.
7. Improved Management:
With the VoIP CRM integration, you get everything organized. For the sales representatives, having detailed information about the prospects helps them tailor their pitch. However, the support agent, on the other hand, wants to know each customer's call history. This integration will automatically sync all the important information between the CRM and your phone system.
8. Direct Calling with CRM:
With VoIP integration, you can make direct calls from CRM. Also, you will be able to get rid of time-consuming tasks, which means agents have more time in hand to make more calls.
9. Streamlines Post-call Actions:
VoIP CRM integration helps streamline all post-call actions for businesses. After the call with customers, agents put all the customer's details into the CRM. However, with the integration, you get everything recorded automatically. It automatically syncs all the information from the phone system into the CRM.
10. Clear Call Analytics:
Integration also allows you to keep an eye on the call analytics, from where you can view your metrics and KPIs of outgoing and incoming calls. You can also keep a track of things as call diverts, time spent on calls, call received, and more.
11. Marketing:
VoIP CRM integration also benefits the marketing personals, as the businesses will be able to divide their customers into different segments through the CRM software and then reach these groups with different marketing campaigns.
Most CRM companies automate this process to save the company's time. Once the marketers segment their customers, they can use VoIP to contact the employees to buy their services and products.
4. How to Choose the Right VoIP System for CRM Integration
Investing in an authentic and reliable VoIP provider can be a game-changer for all your business communication needs.
TeleCloud offers hosted VoIP solutions with integration to various apps. Their features include:
Click on the call and text icons in the CRM account
SMS automation campaign
Automatic saving of calls and SMS
Access to the detailed call analytics
Customer Service:
Businesses often associate VoIP with videoconferencing, because sales managers and senior staff use this technology to communicate with clients. However, VoIP can also benefit customer service.
It lets staff converse with consumers just as they would via a landline phone. Integrating VoIP with CRM makes the process even more effective.
Using VoIP-CRM integration, staff members can check call logs and add notes to a caller's account during a conversation, which helps them resolve issues more quickly.
→ Here are some Questions Answered to Clarify Queries Related to VoIP Integration with CRM:
Qn1: What is the Need for CRM integration?
CRM is the most effective tool for phone integration, team communications, helpdesk integration, and more. Adding VoIP technology to a CRM system will enhance the functionality of the overall solution and boost employee productivity.
The integration also enables the collection of customer transaction activities and histories, which creates more data for targeted marketing and selling. Moreover, such integration provides businesses with accurate tracking and extensive forecasting capabilities because it is based on real-time customer data.
Qn2: What is CRM Software?
CRM is defined as customer relationship management and is a software system that enables business owners to manage their relationships with clients. CRM (Customer Relationship Management) systems serve as a hub for organizing and analyzing audience data. They give you all the tools needed to collect and manage information about people you want to be in touch with.
Qn3: CRM in VoIP – What does it Mean?
The integration of VoIP with CRM will take telecommunication technology to another level of efficiency and productivity. By integrating VoIP and CRM, the process of linking call records with customer information has been automated. With a click of a button, clients can now be called and their call histories can be viewed.
Qn4: Is Salesforce Compatible with VoIP?
With this Salesforce integration, you'll be able to make VoIP calls directly from your Salesforce online dashboard and have them automatically logged. The integration connects seamlessly with your Salesforce dashboard, enabling your agents to instantly access Salesforce CRM data for inbound calls. That means if a prospect or customer is on the line, your agent will be able to see their entire account history, including purchases they've made and previous calls that they've logged, and the issues that have been addressed.
Qn5: Which CRM Integrations are a Must-have?
Email Integration: One of the most important CRM integrations is the integration with a Gmail or Outlook account, so you can send work-related emails directly from your CRM.
Calendar Integration: CRM calendar integration enables entrepreneurs and managers to generate more revenue by being able to plan and execute their customer engagement strategies more effectively and make better-informed decisions about their events and appointments. This is a powerful and versatile solution as calendar events, appointments, and travel dates can all be accessed from one platform.
Social Media Integration: Integrating CRM with social media channels is a powerful way to establish meaningful relationships with customers. CRM-social media integration involves syncing CRM data with social media updates about customers to better understand how they interact with your website, landing pages, and social posts.
By integrating CRM software with different apps, your sales team can be more productive and your business will be more profitable.
Are you interested in learning more about TeleCloud VoIP phone integration with CRM software? To get a better idea of the native integrations we offer, arrange a demo call with our team of experts.
If you are interested in learning more about what we offer, we invite you to contact us anytime at inquiries@telecloudvoip.com. We would love to hear from you!