To create a call report, after having logged into the 3CX management console;
→ Click on Reporting and Reports in your left side menu.
To begin creating a report, click on the add button at the top of the reports page here, we will begin by creating the most common of the reports, which is a Call Report.
This type of report can give you specific information related to calls made from, or to certain extensions within your PBX.
For this type of report, there are two format types:
HTML

CSV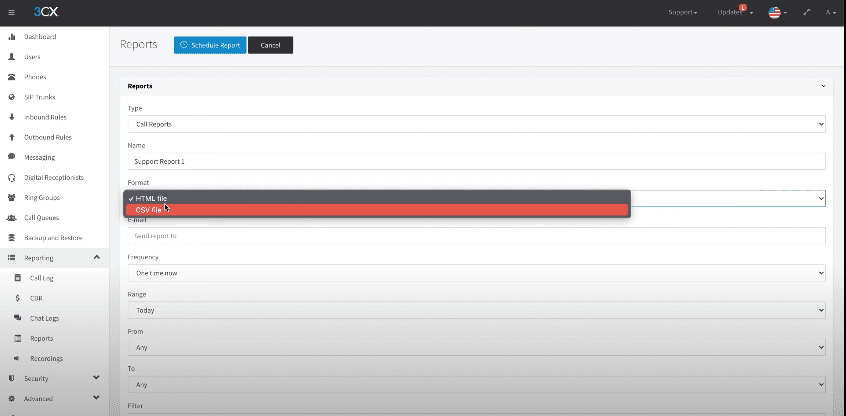 An HTML file can be viewed within your web browser & a CSV file can be downloaded to your computer and viewed later. By adding an email address, you will be notified when the report has been completed.
Choosing the Frequency of Reports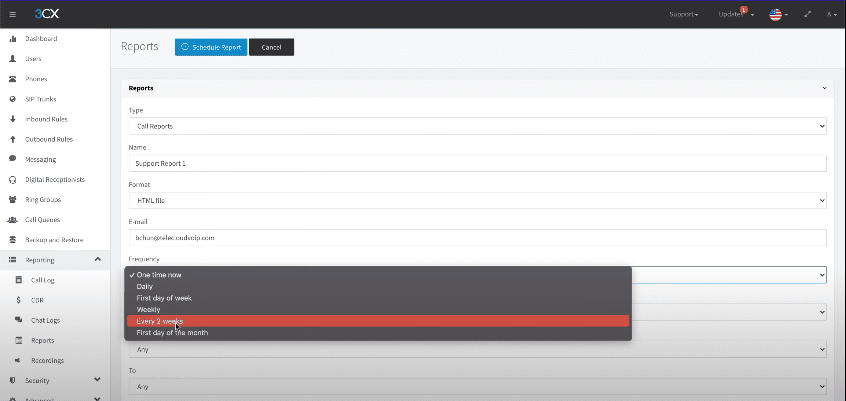 By choosing the frequency of the report, you'll be able to set up a report that can reoccur, daily, the first day of the week, weekly, every two weeks, or the first day of the month.
This can be useful for ongoing reports in which you need to monitor the activity within your PBX. By choosing a specific range, you'll be able to specify what time period you would like to capture for this report.
You can also use the bottom option, which is a custom template to specify specific days. The fields below allow you to filter specific information for your report.
By leaving the value "any" in the, from, and to the field, your report will gather information for every extension and every phone in your PBX. Alternatively, you can also apply a specific filter in order to find information on a specific extension, range of extensions, or phone number.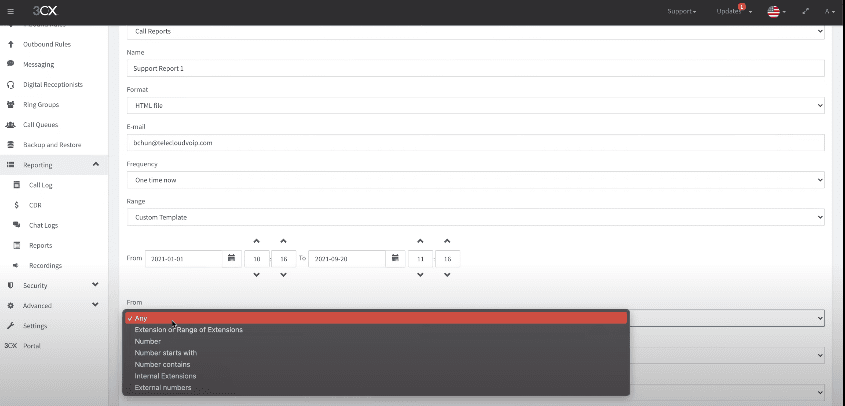 In this example, our report will gather information from any extension within the PBX by calling the phone number listed below. Although this example is for a call report, there are many other types of reports that can also be chosen.
Some of these reports are graphical in nature while others provide you specific details for the information in question.
As you can see, most of the reports are related to call queues. Call queues are not only a very powerful way to control call traffic within your PBX, but they also allow you to gather the most amount of information related to that traffic.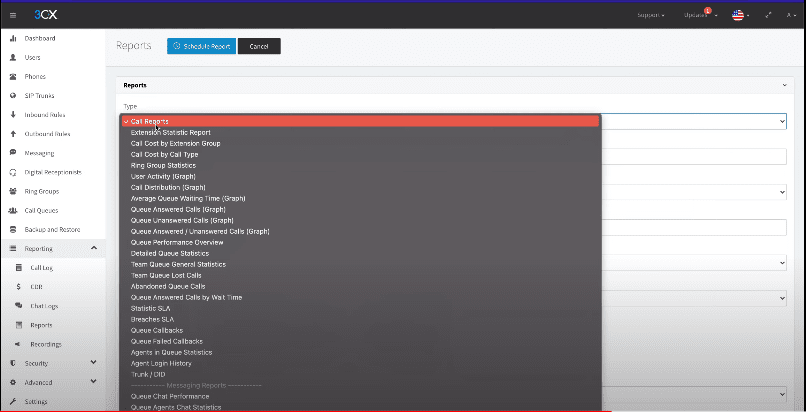 Some of that information may include things like:
How many calls were answered

By which agents?

How long have these agents been logged in to receive calls,

And, even which number has received the most calls.
While we won't get into the details of every type of report. We do recommend that you spend some time looking at these various reports to see which one would make the most sense for your business.
After you have created a report, it will show up in your pending reports list at the top of the page. Most reports take just a few seconds to generate.
So by clicking the refresh button, you'll be able to see the report dropped to the second half of the screen on the top of the reports list.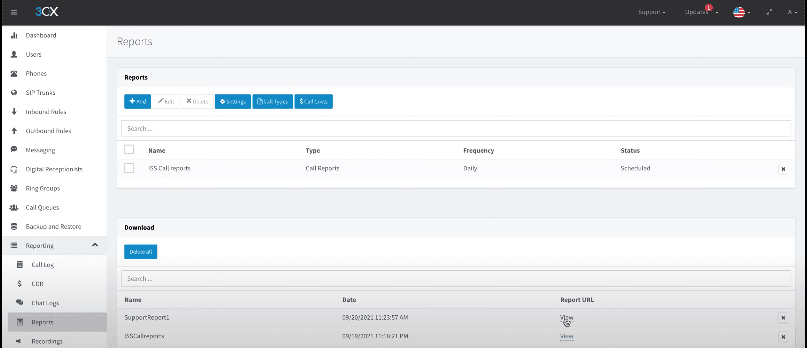 To view the report, click on the view link at the right-hand side of your report, name, a new tab will be opened and you'll be able to see the report. You've just created.
For a quick overview of the 3CX Admin Dashboard and the call reporting process,

checkout this video.