Choosing the right internet plan for your office, small business, or home is a bit tricky. This is because there are so many things to consider, like cost, number of devices you would connect, total Mbps you might need, etc.
Furthermore, work and business are being conducted from home nowadays, including various business operations, client dealing, communication, and more. With such a huge internet use, you might think you should upgrade to business or residential internet. 
To help you pick the right option, we will highlight the difference between residential and business internet.
So, let's get started!
Residential vs. Business Internet
We'll' discuss the differences between the two internet options based on the following criteria:
Speed

IP Address

Bandwidth

Service Level Agreement 

Price

Customer Service
Take a quick look at the Difference Between Residential and Business Internet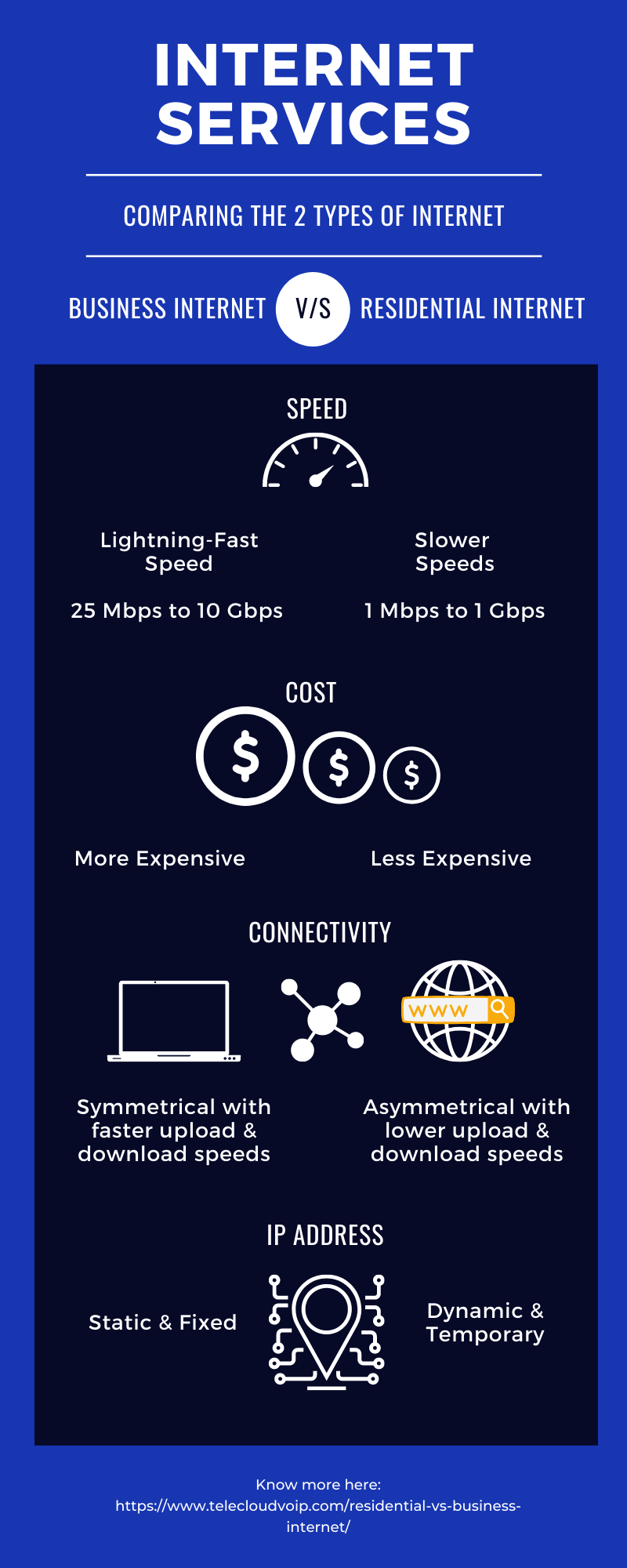 Now, let's discuss these points in detail;
1. Speed: 
Speed is one of the most important criteria of distinction between residential and business internet. This is the first thing you notice when you look for internet service.
Business broadband connection offers better speed than residential packages, making video conferencing, posting, or updating hassle-free for business owners. 

Generally, residential internet speeds range from 1 to 25 Mbps, and business internet speed can reach up to 2Gbps, at a higher cost. However, some internet providers also offer residential internet packages of speeds as high as 2Gbps.
Thus, if you have a large family or you run a small business at home, you can look for internet packages with higher speeds.

FAQ – Is Business Broadband Faster than Residential? 
Business broadband offers more incredible speed, security, and better connection as compared to the residential Internet. It also provides better tech support if there's got some issue. 

Residential Internet is also suitable for small businesses that don't' require high-speed or on-call support. In addition, business internet comes with various other impressive benefits, which is worth considering for most businesses.
Takeaway: 
Business Internet is faster than residential internet. It comes with high bandwidth to avoid any call lags and other technical issues. 
2. IP Address
Business internet has a static IP address, whereas residential internet has a dynamic IP address. A static IP address is a unique identifier of the device's location using the internet.

On the other hand, an ISP allocates a dynamic IP address to the home internet that changes from time to time. 
This means, business internet packages with static IP addresses are more secure; thus, businesses can use them for hosting their network infrastructure. On the other hand, the dynamic IP address of a residential internet may change anytime without warning and is less secure.
With these internet packages, you may not necessarily get enterprise-level stability or security. However, you can call XXXX to ask an expert about business internet and offers. 
3. Bandwidth
If you want to know how fast your business internet needs to be, you need to consider the bandwidth. Businesses require robust internet connectivity; therefore, a dedicated bandwidth allocation is crucial.
A dedicated connection or dedicated internet access (DIA) is a private connection for businesses only. This means it doesn't' share bandwidth with anyone else. Business Internet packages offer a dedicated connection; you won't' face lagging unless there are too many users.
On the flip side, residential internet plans have shared internet access (SIA), where several other customers in the area use the same line. Thus, it will likely cause speed lags. This is why there are considerable variations in the internet performance during peak times, for example, interruptions or slow internet speed.
4. Service Level Agreement (SLA): 
An SLA or service level agreement is a contract between an internet service provider and customers that defines the services (like repairs, uptime) and performance standards. They are used as evidence to clarify when they won't' be liable for data outages or performance issues. This way, customers know what to expect from the providers.
In other words, an SLA is the provider's guarantee that both parties agree to. As a customer, you can negotiate price changes or service offers. An SLA is mandatory for business internet packages.
However, residential internet packages don't' offer any such guarantee of speed, uptime, etc. As already discussed at the speed may vary based on the number of users. Also, they don't' guarantee immediate repairs, which may take from a few hours to days or weeks.
5. Price
If you want to unlock the benefits of a business internet package, you need to prepare to pay more. Based on the package, most commercial internet plans vary from $60 to $500/month or more, whereas home internet plans cost around $20/month. But, the lowest pricing shouldn't' be the deciding factor in residential internet vs. business internet.
As a business owner, imagine what you could lose in the event of an internet slowdown or an outage. Though residential internet packs offer you initial savings, they might end up costing you more due to the loss of connectivity. However, provided the number of features it offers, a business internet plan is worth it.
Mast residential broadband plans come with a phone line – you can often add features such as 3-way calls and voicemail, but that's about it.
Despite this, business broadband offers a lot more: advanced phone systems, extra lines, non-geographic business numbers, and even VoIP.
How is Business Internet and VOIP Connected? 
Identifying if VoIP phone service is ideal for small businesses depends upon the quality of your network and its needs. Then, you just need to ensure the Internet provider has enough bandwidth for the number of phone calls you expect for your business. 
You also have to identify whether your business has enough bandwidth to handle the other traffic and whether their firewall and router can prioritize the VoIP traffic over the regular Internet traffic.
Related Read: Reasons Why You Are Paying Too Much For Your Business Internet Service
7. Customer Service: 
When a business internet package comes with an SLA, you get good customer service. An SLA includes price point, service standards, as well as customer assistance. Depending on the package or corporate internet bundle, they also offer VIP customer service. Though residential internet plans also promise customer service and assistance, it isn't true for all. Or, you may get slower customer service.
Pros and Cons of Business Internet Solutions: 
Pros:
Reach:

Business internet also increases client reach, as the services will not be limited to geographical constraints. This will also increase sales and allow small businesses to expand globally, thereby targeting international customers. 

Availability:

With business internet, your business can be open all the time without any downtime. This is also beneficial for the customers as they will be able to process anytime.

Fast speed:

For business Internet, speed ranges from 25Mbps to 10 Gbps; however, for residential internet, options for the speed vary from 1Mbps to 1 Gbps.

Symmetrical Connection:

Business Internet provides various options for balancing the uploading and downloading speed. You get improved connections for sharing documents, video conferencing, and more.

Dedicated Line:

The business Internet means you will not be sharing the connection with anyone apart from your business. This will not affect the speed during peak times.

Static IP Address:

Business Internet offer the option to have a static IP address offering a more secure, reliable connection.

Service Level Agreement (SLAs):

SLAs are services contracts between you and your Internet provider outlining performance standards as well as how you'll' get compensations if the service level is not.

Cost:

Using business Internet helps to reduce various expenses like all your products and services can be delivered directly to your customers without spending much.

Dedicated Customer Service:

Many service providers offer 24/7 support for business Internet customers.
Cons

:
High Starting Cost:

Depending on your needs, business internet could approximately cost $60/mo for 25Mbps to $500/mo or more for multiple Internet gigs.
How Fast Does your Business Internet Need to be?
If you plan to switch to business internet service, you need to determine how much speed you need for home and business. Run a speed test to determine what you are getting and make a list of online devices. 
Faqs about Business Internet Solutions: 
1. Do you need business internet to work from home?
To work from home, you need at least 10 Mbps of downloading speed and 1Mbps of uploading speed of dedicated internet bandwidth. However, residential internet is sometimes restricted to speed and comes with the best-effort service agreements.
2. Which internet is better for business?
While many internet service providers assure the best business internet services, choosing the one depends upon your business needs. Telecloud offers high-speed business internet services at the best prices. 
3. Why Business Internet Costs More Than Residential Internet?
Business internet comes with more features and benefits than residential internet. Therefore it is worth the cost. Cost also depends upon the features and your package plan.
Why Is Business Internet a Better Option?
Business Internet is flexible and reliable

It guarantees uptime, availability, and more bandwidth

Ideal for the business that requires more configurations to facilitate complex work

Business Internet offers access to the data center and cloud services

Suitable for the companies who rely on hosted cloud services
Is it time to switch to the business internet?
If you are working from home and want speedy services and security, you must switch to business internet services.  Check out our latest business broadband deals if you are planning the switch.  
How will Telecloud Business Internet Impact Your Small Business?

An investment in a quality business internet provider is a no-brainer when you get a plethora of services with 24×7 support. Also, Telecloud business internet services are a combination of high speeds, SLAs, dedicated connections, and reliable customer support. 
Have you ever switched to business internet? Let us know what you think; contact our service providers now! 
Final Thoughts: 
Business internet connectivity is more a necessity than an option, especially as your company or small business expands. It offers a more stable connection, better bandwidth, more data security, and good customer service. However, everything boils down to your requirements. So, get clear on your needs first and then make an educated decision. Interested in TeleCloud Business Internet Services? Drop us a message at inquiries@telecloudvoip.com.