Today, businesses rely on phone systems to remain productive no matter where they are. However, business phone systems are not just about making and receiving calls. There's much more to it than that.
This guide is for business owners seeking guidance on what to look for and consider when choosing a phone system.
In this business phone system guide, we will cover the following:
Let's begin with the most basic question;
→ What is a Business Phone System?
A business phone system is a multi-line telephone system used by businesses that allow them access to the features like call handling, transferring, call metering, accounting, conference calling, and more.


The business phone system connections can range from just a few phones in a small business to a complex private branch exchange (PBX) system utilized by large organizations.
Also, business phone systems can function over the Public Switched Telephone Network (PSTN) or hosted VoIP services. Furthermore, Business phones can also be delivered as a hosted service, freeing companies from investing in costly equipment.
→ Why Do You Need a Business Phone System?
It doesn't matter whether you run a small-scale business or a large one. It is always better to have a business phone system than a traditional one.
Here are a few reasons why you need a Business Phone System:
1. More Privacy:
It will become chaotic if you start using your phone number as your work number. Imagine attending to your customer's phone all the time and not having a personal life.
Also, consider the situation when your employees use their own devices to attend business calls- Risky!
They may have all the business information and call logs stored on their phones. However, business phone systems offer separation between work and personal calls allowing more privacy at work. You can keep track of work calls through a different number and set up automated call forwarding.
2. Low Costs:
Traditional phone systems are not just bulky but are quite expensive, and you may end up gathering a lot of wires. Also, the maintenance cost and special support they need can become expensive for some businesses.
On the other hand, business phone systems that use

VoIP are cost-effective

, easy to run, and require minimum maintenance.
Business phone systems can also help you save the cost associated with the loss of leads missed in the communication.
3. Collaboration:
A business phone system helps improve communication between you and your customers and your company. When your employees can connect without getting up from their seats, their productivity will increase.
The centralized nature of the business phone solutions makes it easy to share resources. For example, instead of keeping every member's details, you can connect your business phone system with CRM so people can collaborate with other teams.
4. Less Pressure and Easy Management:
Business phone systems help decrease pressure on you and your employees by managing calls through call routing, allowing you to call anytime. A business phone system, either the cloud, hosted or on-premises, comes with the help and support of a phone service provider.
It also gives you the option to train your employees beyond the basic troubleshooting issues. This lets your employees focus on ensuring that proper information is imparted and your work is safe from human error.
5. It Grows your Customers:
Scalability is the biggest reason most businesses switch to VoIP solutions as business phone options.
You can easily handle business calls, messages, and inquiries. The effect of customer services with improved business strategies is that your company will only grow.
This expansion will help you get more customers, investors, and employees- a requirement that will boost revenue and get you more sales.

Also, business phone systems, especially VoIP and Cloud-based systems, grow with your business needs. They are easy and inexpensive, and you can add features like call forwarding without buying new hardware.
6. Other Impressive Features:
A business phone system has many impressive features that can resolve your business needs. For example, you can use one reliable business phone system for your business instead of having various tools for call logs, call conferencing, call forwarding, online meetings, and call screening.
→ Features and Benefits of Business Phone System:
As a business owner, you only want to explore the best options for your business, but every business has different needs.

So here are some of the important features and benefits of a business phone system that can benefit your business.
1. Business Phone Systems Comes with Shared Phone Lines:
If every employee gets an individual phone line, you end up installing an individual phone and jack line. This will double the cost and would be unaffordable for some businesses.
Therefore, by incorporating a business phones system, employees can use a shared phone line through a separate extension without installing an extra setup.
2. Auto Attendants:
Business phone systems come with an auto-attendant feature to answer all the incoming calls and let callers dial by extension or through a name. This is handy and saves money from the extra expense that businesses have to pay to an employee for answering only calls.
3. CRM Integration:
Business phone systems allow easy integration into your CRM to improve efficiency. By adding this, employees no longer have to shift from the CRM to the app to make or receive calls.
Having a phone solution integrated with your CRM, you can achieve a seamless flow of information where all the communications are accessed from one account.
5. Unified Communications:
Business phone systems provide a unified user interface for all communications, including voice, video conferencing, data sharing, and instant messaging. For example, let's assume your business uses one or two-line phone sets and you want to have voice messaging.
In such a case, you need to pay a monthly fee for every voice message and the forwarding feature. While a small business with more than one phone line can easily pay, with VoIP business you don't need to pay the extra monthly expenses.
6. It Reduces Conference Call Expenses:
Third-party conference calling allows more participants but is often expensive. However, a conference bridge eliminates the need to buy an extra setup and provides support to multiple parties.

→ Different Types of Business Phone Systems
Business phone systems are of many types, and here we'll briefly describe the most popular and common ones. So, what are the different types of business phone systems? Let's explore them: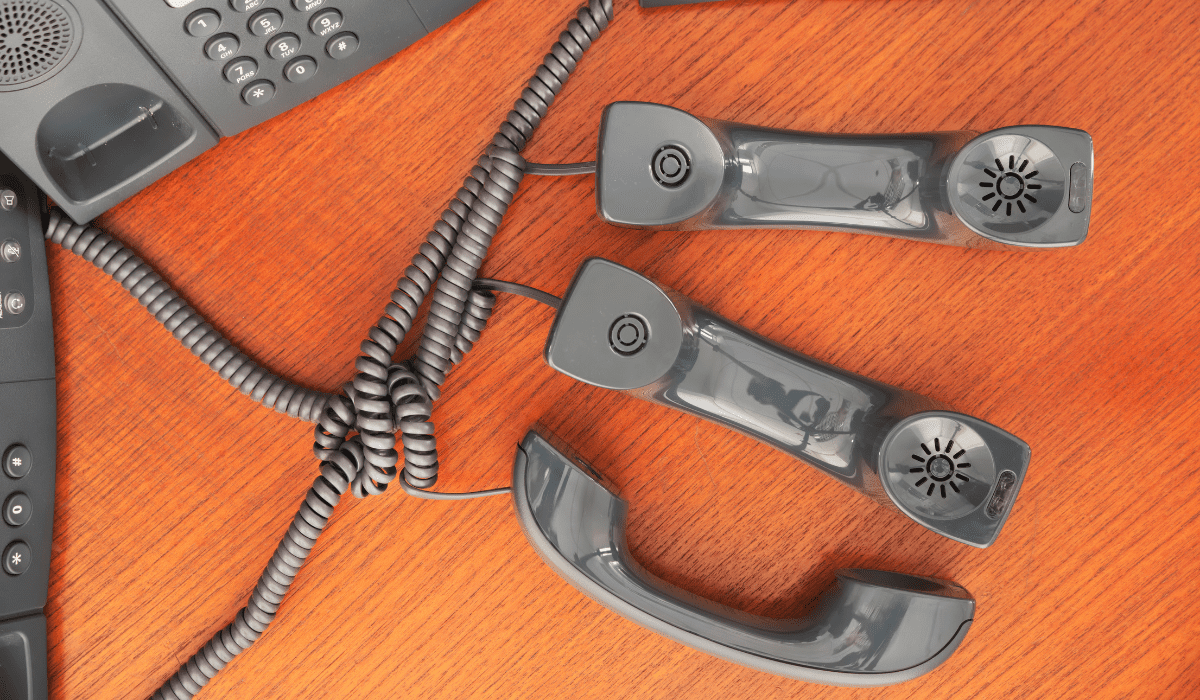 1. Multi-line Phone System:
A multi-line phone system lets multiple people join an individual phone line simultaneously. These lines can either be internal or external.
While the external lines allow you to communicate with clients outside the business, the internal lines let you communicate with your employees easily.
Multi-Line phone systems are also designed to only send audio data between two parties at once.
How does a Multi-line Phone System Work?
A multi-line phone system works similarly to a traditional one-line phone in that packets of audio data are transmitted through telephone wires to the recipient. Multi-Line phone systems, however, allow two, four, or more lines to be transmitted.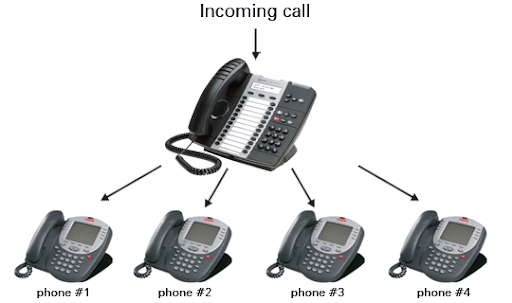 These systems use a cordless extension that lets you attach another phone (or phone). Also, if you only need a second line, you can use a line splitter; this separates the phone line into two lines, allowing you to connect to another phone or device.
You simply need to plug the splitter into the phone jack and then insert one of the phone cables into the ports.
Features of a Multi-line Phone System:
Caller ID

: With caller ID, you can see the name or number of the calling person. This way, you can sort the important calls and spam the unimportant ones.

Speakerphone:

If you need a hands-free option while stuck in the middle of something urgent, speakerphones are the best.

Voicemail:

Voicemail features allow your customers to leave a voice message when you cannot attend the calls.

Message waiting indicator:

This feature alerts you of the new voicemails you have received by flashing LED lights on the device. The waiting indicator is often in-built on the phone, but you can install a separate answering machine.

Hold:

Hold features vary according to the phone system you had purchased. For example, while some phone systems play hold music, other hand-sets simply put calls on hold.

Call Transferring:

This feature lets you transfer calls to someone else when you are busy.

All page/intercom:

While the paging allows you to connect to various phones simultaneously through a speakerphone, the intercom lets you broadcast announcements or notify employees about the call waiting.

Auto-attendant:

The auto attendant simply greets the callers with an auto-generated message and offers them a directory of other extensions. You may need to get this feature as an add-on.
2. VoIP Phone System:
A VoIP phone system converts input voice signals into digital data packets to send them across the internet via a router. It uses IP telephony to transmit voice messages and videos over the Internet.

Since VoIP offers many advantages, businesses are switching to this new technology and are ditching the traditional public switched telephone network (PSTN).
Features of VoIP Phone System:
No on-site hardware is required

Zero fast implementations Charges

No monthly contracts

Free upgrades

24×7 Customer Support

Add or re-use same phone lines anytime
3. PBX Phone System:
PBX, Private Branch Exchange, works as an internal telephone network for a business. In this, users can easily communicate with one another through the phone via internal lines and can make/ receive other external calls.
This phone system helps deliver business telephony features like call transfer call forwarding, voicemail, auto-attendant, call queue, etc. They operate by using VoIP (Voice Over Internet Protocol) or through analog or digital phone lines.
Also, a PBX phone system allows you to split the physical phone line coming into your business into multiple lines, allowing you to use more telephones.
Features/Benefits of PBX Phone System:
Cost-Effective:

While traditional phone systems have limited access to the features, VoIP phone systems are cost-effective, both in maintenance and monthly phone expenses.

Easy to Maintain: Dedicated wires and separate hardware requires special service. Since a modern phone system uses high-speed internet, it can rely on existing LAN infrastructure. Also, system maintenance is easy and can be done through a computer interface.
Seamless Internet Connectivity

: Apart from easy maintenance, VoIP gives seamless connectivity, allowing users to access their business phone systems from any location. This is effective for remote businesses and for people who are always on the go.

Mobility and Remote Work:

Even if you are not in any office, you can still access a VoIP phone to manage your communications. You can call remote employees, take incoming calls, or call external numbers with ease. Some VoIP systems also allow easy access to features like call transferring, call forwarding, call waiting, and more.

Easy Expansion:

It is easy to expand a VoIP phone system, as you simply need to add a new extension. Just plug in the phone and you are connected to the world.

Call Center Features:

Business phone systems come with impressive features that are required for a call center. There are auto attendants, call forwarding, advanced queue systems to let businesses manage phone calls efficiently. Some VoIP phone systems also allow you to record calls, listen to them or take over them for training purposes.

Modern Business Communications:

VoIP gives access to modern features of calling like web conferencing, instant messaging, social media, and more. These features are expanded to include services on various other channels.

Integration with Other Software: Business software is moving towards web and cloud computing.


You may see an easy IP PBX integration with CRM, which would allow businesses to sync all contacts and manage the information from one location.
If you are looking for the best-Hosted Phone Systems for your business in the USA, TeleCloud is the best choice. Get in touch with our Consultants today.
→ Which Type of Business Phone System Should You Choose?
When installing, replacing, or upgrading your current business phone system, you need to consider your business activity, goals, budget, and expected call volume.
Here are some tips you can consider when buying a business phone system:
Your business depends more on voice calls, or it can run with a minimal telephony requirement

The plans for strategic business growth

If you need a sales team?

Do you need to integrate a phone system?

If you want more customer engagement to expand
Choosing the right business phone system depends on your business needs. So, before selecting the right business phone system, think about the future of your business and how it is going to grow. Here are a few options you can consider of:
Multi-line Phone System: A multi-line phone system has limited call management capabilities and is the lowest-price available phone system.
PBX Phone system: A PBX phone, on the other hand, offers more features. It is also capable of expansion, but that will require more hardware, which becomes expensive.
VoIP Phone System: It's one of the best business phone systems with call management features.
VoIP system offers the most scalability. Also, these phones can be on-premises or cloud-based, depending on the type of system you choose.
On-premise: These systems need hardware and heavy equipment depending on your business needs.
→ Top 7 Best Business Phone Options:
Premium IP Phone T33G

Executive IP Phone T46U

Enterprise IP Phone

Cordless Base and Single Handset

Yealink Cordless Repeater

Conference Phone

Premium Conference Phone



→ What is the Best Way to Select a Business Phone Service Provider?
A business phone system is the best option for businesses as it allows you to introduce technology to how these strategies are implemented. Check multiple providers; compare their prices.
Also, keep in mind the following things:
Cost:

Cost is the prime factor that affects various phone system-related decisions. While traditional phone systems are costly, VoIP phone systems are smarter options.

Mobility:

Modern businesses today rely on higher mobility than their peers. So, go for the services that let your staff connect with employees and teams anywhere and anytime.

Scalability:

Businesses need to be agile, whether they are going down or expanding. At this time, you need to reconfigure resources to match the growth of businesses.

Reliability: Check the risk management,
backup plan of service providers, and fail-safe policy before signing up any document.
Collaboration:

VoIP services allow easy collaboration with other systems. You can get access to the features like video conferencing for unlimited participants, integration with productivity tools, including CRMs and email.
→ What Will be the Cost of a Business Phone System?

While the cost cannot be identified directly, there are various other factors that affect your business. Some of them are:
The installation cost of your business

Cost of PBX system, hardware cost, length of cables, and the number of routers used with your business phone system

Number of handsets needed

The phone lines needed for your business

Maintenance cost required
Every business has its own unique needs, therefore to get an estimated cost, contact your provider and ask for the quotes. At TeleCloud we provide the best business phone services.
If you have any queries or requirements, simply email us at inquiries@telecloudvoip.com and our team will contact you shortly.
→ Frequently Asked Questions Related to Business Phone System
If you plan to be in the market for a business phone system in 2022, there are so many questions you need to consider first to ensure you get the solution that best fits your needs.
Qn 1: Do I Need a Phone System for My Business?
If your company is new, using a few business phones to manage all the inbound and outbound
calls is likely the ideal decision. But, if you are planning to expand your business, you may need to upgrade to an integrated business phone system. Here are a few reasons that show it may be the right time to upgrade to your business phone system:
Your business call volume has increased and clients are getting the busy signals

Your phone could soon be outdated or have power outages and technological glitches.

You want to increase customer experience, thus need more features

You wish to integrate your phone with an additional platform

You are moving your business to another location
Qn 2: Is the Connection on a VoIP System As Good as on a Landline?
Landline phones are reliable for good sound quality and minimum call drops.
However, the call quality on VoIP depends upon the strength of your Internet connection. If you are using a high-speed business internet connection, you will experience zero issues with call quality.
Also, VoIP gives you more control over your call quality; if you are not satisfied with the sound quality, you can also plug in your headsets or microphone as per your likings.
Therefore, both landlines and VoIP have their pros and cons. However, VoIP tends to sound better and has missing features in landline phones.
Qn 3: Can Remote Employees Access a Business Phone System?
VoIP technology gives the freedom to take and make business calls remotely without having a dedicated phone.
In addition, the business VoIP systems offer mobility features that allow employees the full functionality of their desk phone anytime.
**Must Read: Working Remotely: How The Right Phone System Can Change Your Business **
Qn 4: What Options are Available for the Number of Phone Lines a Small Business Phone System Can Offer?
Cloud hosting services don't have many limitations to the number of phone lines your business can access. Instead, the more lines you have, the cheaper is your per-user cost. Also, adding new lines to the cloud business phone system is an easy and simple process. With on-premises, you have to install new lines, however with cloud- you can add new lines directly from your computer.
Qn 5: With Cloud Systems, is there Only a Monthly Fee, or are there Other Costs I should be Aware Of?
Yes, there is likely to be some upfront cost; you may have to pay for the IP phones, but that depends on your choice of processor.